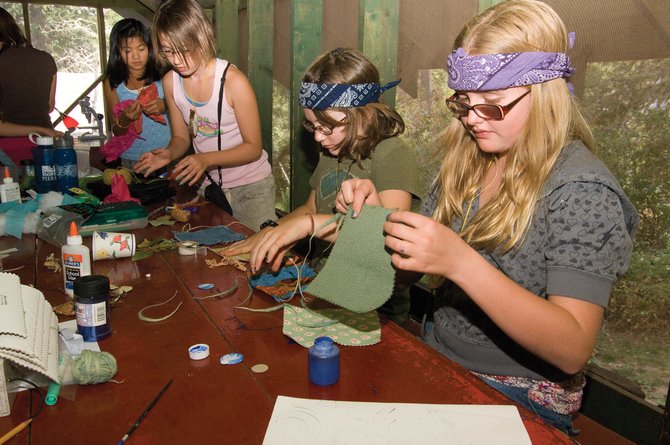 Taking school to the outdoors
6th-graders go to Perry-Mansfield for science lessons
Sunday, September 20, 2009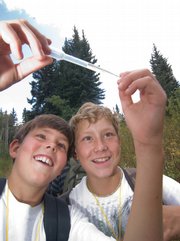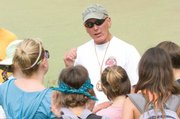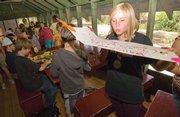 Steamboat Springs — Playing the part of a blind bear, River Ludwick wore a bandana over his eyes and bent down, his hands grabbing for the plastic purple card that represented the food he was searching for.
River was part of a group of sixth-graders participating in an exercise about how bears interact with their habitats during Yampa Valley Science School, which started last week at Perry-Mansfield Performing Arts School and Camp.
River's goal was to collect enough food to survive, a task made more difficult because he couldn't see.
"I was trying to visualize where I was," said River, acknowledging the help he received from a junior leader at the camp, who led him to spots where the colored cards were located on the ground. "It was the most fun for the blind bears. I didn't know where anything was."
Since 2001, three groups of sixth-graders from Routt County schools have spent a week at science school. The camp starts on a Monday and the students stay overnight at Perry-Mansfield from Tuesday to Thursday. On Friday, they take part in a community service project.
Rocky Mountain Youth Corps Executive Director Gretchen Van De Carr, who started the school, described the event as an opportunity to place local youths in an outdoor learning environment.
"It doesn't take them away from school but brings school to the outdoors," she said.
Van De Carr called the science school "placed-based education." Jessica Schnittka, science school camp manager, said it provides children with a hands-on learning experience.
"Usually, people tend to think of science as looking at test tubes though a microscope," she said, and added that while microscopes are included, the science school allows a hands-on experience. "They're using their five senses. Learning should be coming from them and their experience instead of us preaching."
'Science stuff'
This year, Van De Carr said, 250 sixth-graders are participating, including students from all three county school districts, as well as North Routt Community Charter School, Lowell Whiteman Primary School, Christian Heritage School and home-schooled children.
The cost of the school is $125 per student. Van De Carr said parents expressed a greater need for scholarship assistance this year.
Partners in Routt County school-based mentors, called senior leaders, teach the sixth-graders in four blocks focusing on different research topics: trees; animals and plants that live along ponds and streams; ecosystems in aspen groves, including how bears survive there; and soil and grasses. A group of junior leaders is comprised of juniors and seniors from Steamboat Springs High School. Teachers and parents volunteer to assist with other tasks like cooking meals and cleaning up.
Callie Swinsick, the junior leader who helped lead River the blind bear to food, said she returned for her second year at the school because she had a lot of fun last year. Swinsick, a senior at SSHS, said she wants to study early childhood education in college and the more time she spends working with kids, the better.
"I like to volunteer," she said. "And hanging out with sixth-graders is totally cool."
Will Firestone, a sixth-grader at Steamboat Springs Middle School, pointed out the most obvious benefit, to some, about science school. They're not in school, he said.
"You don't have to be cluttered up in a classroom," Will said. "You get to walk around and talk about a bunch of science stuff. We looked at a bunch of different plants and a rattlesnake. I like being outside, and you get to do science. I like science."
Steamboat Springs Middle School Principal Tim Bishop said the camp provided students an opportunity to get to know one another after starting at a new school. He said its teamwork and partnership aspects help set the groundwork for the students' time during school. Plus, Bishop said, it had another benefit.
"In education, we really believe hands-on learning experiences are the best, no matter what you're learning," he said. "That's what science school is all about. : The hands-on piece is so powerful, not just hands-on, but they're in the environment they're studying."