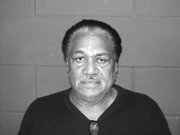 Defendant at a glance
Lawrence Lee Chiles
Age: 66
Hometown: Fresno, Calif.
Case number: 09CR99
Arresting charge: Identity theft (fraud), a Class 4 Felony punishable by two to six years imprisonment, with a mandatory three years of parole, and a fine of $2,000 to $500,000.
Chiles pleaded guilty to a Class 1 misdemeanor, unauthorized use of a transaction device with a value less than $1,000.
Chiles was arrested in California June 24 on a warrant issued by the Steamboat Springs Police Department. According to the arrest warrant, Chiles is suspected of using Steamboat Springs local Chris Wening's identity to open several business accounts in California.
Chiles was booked into Routt County Jail on July 30 and served 87 days before pleading guilty and being released back to California, where he faces violation of probation on a felony case.
By the numbers
- Steamboat Springs Police Department
April 1 to June 30, 2009 2008
Calls for service: 2,332 2,473
Total calls: 4,976 4,858
Arrests: 291 212
Accidents: 99 126
Citations: 785 633
Warnings: 610 238
Criminal offenses:
Assault: 21 31
Burglary: 19 23
Fraud: 28 29
Larceny/Theft: 97 65
Drug violations: 36 32
DUI: 53 36
Minor in possession: 35 41
Source: Steamboat Springs
Police Department
- Routt County Sheriff's Office
April 1 to June 30, 2009 2008
Calls: 4,180 4,547
Arrests: 56 63
Accidents:* 44 57
Assault: 4 3
Burglary: 5 7
Theft: 11 12
DUI: 5 6
Minor in possession: 6 1
Drug-related: 6 3
*RCSO as primary responder
Source: Routt County Sheriff's Office
State help
The Colorado Attorney General's Web site includes an "Identity theft repair kit" with a 28-page downloadable booklet of advice.
The site also includes links to the three major credit bureaus and information about how to request a credit freeze from each.
To access the repair kit, and other identity theft information and support, visit www.ago.state.co....
Learn more
If you think you may have been a victim of identity theft, you can call the Identity Theft Resource Center toll free at 1-888-400-5530 or visit www.idtheftcenter.... The nonprofit company does not charge for advice or assistance.
The Identity Theft Resource Center recommends these actions if you think someone has opened an account in your name:
- Ask to speak to the company's fraud department about all identity theft matters.
- Ask what process the company requires to clear this account from your name. This most likely will be a copy of the police report, a fraud affidavit, copies of two utility bills and a copy of your driver's license.
- Contact the three major credit reporting agencies to place a fraud alert on your credit reports, and order your complimentary credit report. Review your credit reports to identify all fraudulent accounts.
- Contact your local law enforcement officers to make a police report. You will want to order a copy of that police report.
- Send a fraud affidavit package certified with return receipt. This fraud package most likely will include a police report, a fraud affidavit, a copy of a utility bill and a copy of your driver's license. You also will want to request copies of the application and the transaction records, a letter of clearance and for this account to be removed from your credit reports.
- Give the company 20 days to respond.
Steamboat Springs — When Lawrence Chiles wanted to buy an identity, it cost him $200 on a corner in East Los Angeles, he said in Routt County Court on Friday. Chiles, who had served 87 days in Routt County Jail, pleaded guilty to a Class 1 misdemeanor and was released with no additional fines or jail time in this case, though he faces additional charges in California.
"Any kind of ID, any state," can be purchased on the corners, Chiles said.
Chiles used the personal information he bought to open store accounts at home improvement stores in California to charge several large purchases. Chiles said Friday that he thought the identity belonged to someone who had died. The identity actually belongs to Steamboat Springs resident Chris Wening.
Chiles pleaded guilty to unauthorized use of a transaction device, a Class 1 misdemeanor punishable by six to 18 months in jail and $500 to $5,000 in fines. But according to the plea agreement, Chiles, 66, will not serve any additional time because of his failing health and more pending charges in California. Chiles reportedly was kept in Yampa Valley Medical Center on Saturday night because of an unspecified medical problem. He appeared in court in a wheelchair with an oxygen tank.
Routt County Public Defender Sheryl Uhlmann said Chiles faces probation revocation in a felony case in California and possibly more jail time. Chiles was scheduled to fly from Denver to California on Friday evening.
Chiles used his chance to address the court during his sentencing to apologize to Chris Wening and his wife, Jamey Wening.
"I would really like to apologize to you, sir," Chiles said as he faced the Wenings. "You were supposed to be deceased; that's what I was told."
Chiles said the identity of a living person costs $50, and a dead person costs $200.
"I really apologize to both of you for any inconvenience," he said.
After the hearing, Chris Wening said he was pleased with the outcome, but Chiles wasn't the person he really wanted to find.
"The person who started selling my identity, that's who I want to see," he said.
Wening was informed about the identity theft in April when a store called him regarding an order he had placed. He had never visited the store and quickly realized his personal information was compromised.
He worked with Steamboat Springs Police Department Detective Nick Bosick to track down the thief, and Bosick issued a warrant for Chiles' arrest.
Chris Wening said that although he would have liked to see Chiles serve more time for his crime, he prefers that the California jails house him to take the cost off of Routt County.
Chiles was ordered to pay $184.50 in court costs. Routt County Judge James Garrecht said he did not want to assign any fines at this time because he would prefer all money go toward restitution. Chris Wening said he spent 80 hours and some expenses as he responded to the theft. No cost of restitution was determined Friday, and prosecutors have 90 days to decide on the amount.
ID theft, scams widespread
The fastest growing crime in America is identity theft, Steamboat Springs Police Capt. Joel Rae said, and Steamboat residents are not immune to the national, international and increasingly local attack from identity thieves.
"It has something to do with the economic state that we're in," Rae said. "I think that one is definitely a category that can be attributed to that."
Steamboat Springs residents have reported scams from "Africa to Jamaica," Rae said. Many, but not all, attempts are thwarted when would-be victims identify the scam.
During the previous quarter, from April 1 to June 30, 97 thefts and larcenies were reported, compared to 65 during the same time last year. The increase in thefts and larcenies also was apparent in the early part of 2009, with 100 cases reported from Jan. 1 to March 31.
Bosick said there are a few attacks that are becoming increasingly common, and residents should be aware of techniques to protect themselves.
One attempted scam that local businesses have repeatedly reported is a large order placed through a speech-to-text service.
"The order is usually for a large amount of merchandise, whether it is for pizza, windshields or floor tile," Bosick wrote in an e-mail. "Once the order is accepted by the vendor, arrangements are made to have the merchandise shipped via a fraudulent shipping company."
The caller provides a fraudulent or stolen credit card that appears to process normally.
"Once the merchandise is ordered, the shipping company contacts the vendor and advises the vendor needs to Western Union the shipping costs to the shipping company. Once the vendor sends the money via Western Union, the scam is completed," Bosick wrote.
"Generally, the suspect(s) will try to milk the vendor several times until the vendor catches on. It takes a little time before the vendor is informed that the credit card number was stolen. By that time, it is too late.
"More often than not, the Western Union money transfer was sent to another country, causing any investigative efforts to come to a screeching halt," he wrote.
Bosick said that he knows about only one business in town that lost money in such a scam. The company sent $6,000 to $8,000 through Western Union. The money ended up in South Africa before the credit card was declined.
A second common scam is an "over-payment" on a condo or apartment, Bosick said. A landlord will get an e-mail from a person claiming to be an interested renter or buyer. After arrangements have been made, the tenant is told to send a predetermined amount of money. The person will send a check that is more than the agreed amount and will ask for the landlord to send the extra back via wire transfer. After the landlord returns the money they find out that the check was fraudulent and they did not get any money from the transaction, and they are unable to get back the "extra" money they transferred.
Bosick said the third common scam is when a person calls a potential victim and tells them that they owe money on a fictitious account. The potential victim is warned that if they don't pay the money immediately they will be arrested.
"People actually fall for this and will give credit card information to these people and authorize them to charge the card for the fictitious debt," Bosick wrote.
"Oftentimes, all it takes is access to the Internet and a little time to protect yourself," he wrote.