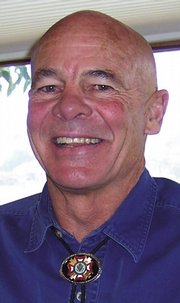 Steamboat Springs — Steamboat Springs resident Bob McConnell intends to enter the Republican primary for Congress in 2010.
McConnell, 63, is a retired U.S. Army colonel who moved to Steamboat Springs in 2007 with his wife, Phyllis. He has lived in Colorado since 1984 and is a former Airborne Ranger; military and labor lawyer; founder of the Everest Environmental Project, which worked to clean up expeditions on high peaks; and is a current volunteer on Steamboat Ski Patrol. McConnell announced his intentions Wednesday night at a meeting of Veterans of Foreign Wars Post 4264 in Steamboat Springs. He described himself Friday as "a constitutional conservative" who would increase energy exploration on the Western Slope.
"The 3rd District needs a strong leader right now to get us through health care reform; create energy-related jobs, especially in mining; create jobs harvesting 2 million acres of dead trees north of I-70 before they burn; and to get our schools back on track," he said.
McConnell said federal roadless initiatives are "exactly the opposite way from where we need to be going," adding that energy exploration can be done with environmental responsibility.
"I really want to focus on bringing jobs into Colorado - and the full range of energy production," he said.
McConnell would face Ninth Judicial District Attorney Martin Beeson, of Rifle, in a Republican primary. The 3rd Congressional District covers 29 counties across the Western Slope and southern Colorado.
The Congressional seat currently is held by U.S. Rep. John Salazar, a San Luis Valley Democrat who defeated Republican Greg Walcher, of Palisade, in 2004. Salazar successfully defended the seat in 2006 against Scott Tipton, of Cortez, and again in 2008 against Wayne Wolf, of Delta County.
Salazar has raised $279,626 for the 2010 election cycle, according to www.OpenSecrets.org. Beeson has raised $6,100, according to the Web site.
McConnell acknowledged that he faces an uphill battle.
"I just opened a bank account today," he said Friday, referring to a new account for campaign funds. McConnell added that he is working on a Web site and plans to begin campaigning in the district this weekend.
McConnell said he has led people all his life, in the Army and in several environmental nonprofit organizations after his military service.
"I've never run for political office before in the public forum," McConnell said. "I'm up for it. : I've faced challenges all my life, and I'm looking forward to being involved."