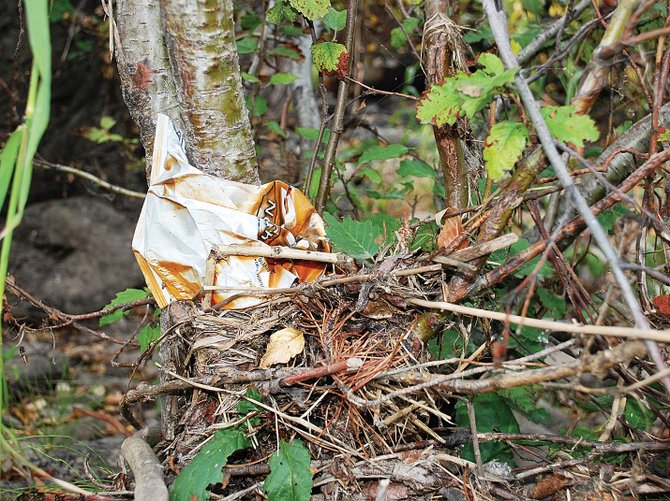 Yampa River Cleanup is Friday
Residents to help rid low-flowing river of tubing detritus
Thursday, September 17, 2009
If you go
What: Yampa River Cleanup Day
When: 10 a.m. to 2 p.m. Friday
Where: Meet at Backdoor Sports at Ninth and Yampa streets
Gear: Trash bags provided, work gloves recommended. Stick around afterwards for barbecue and a raffle.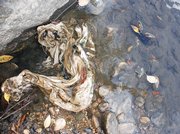 Steamboat Springs — The semi-annual scavenger hunt known as Yampa River Cleanup Day, from 10 a.m. 2 p.m. Friday, promises to round up the last layer of litter left behind by people recreating on and along the Yampa River during the summer.
The Yampa through downtown Steamboat Springs is flowing at its lowest level of the season - 90 cubic feet per second - and low flows expose nearly all of the remaining refuse.
Cleanup organizer Peter Van De Carr says to expect the unexpected Friday.
"It kind of falls into a couple categories, there's the stuff that river runners bring along - sunglasses and Coors beer cans, and flip-flops, and there's industrial stuff like auto parts left from the old Detroit rip-rap (car bodies used in misguided erosion control efforts). We even find gardening tools - rakes and shovels."
Friday's cleanup efforts will be bolstered by 100 sixth-graders from all across the county, participating in the Yampa Valley Science School, and members of the Colorado Mountain College Kayak Club.
The last river cleanup day was held at the end of August when the river was still flowing at 200 cfs, Johanna Jeffery, of Backdoor Sports, said.
"We had a cleanup at the end of August, and we had probably 30 people," she said.
Now that the flows have receded, she expects the river to cough up a collection of beer cans that never had their tops popped.
Inevitably, much of the litter in the river is attributed to the thousands of people who enjoy floating the Yampa through town on inner tubes, some on their own tubes and others availing themselves of the services of permitted commercial operators like Backdoor Sports.
Jeffery and Van De Carr, the owner of the shop, have undertaken a new initiative this summer called Respect the Yampa. The effort is meant not only to educate floaters about their responsibilities to the river, but also to reduce conflicts between different river users - tubers and trout fishermen, for example.
"It should be a community awareness no matter what you use the river for," Jeffery said. "I know my own friends wear flip-flops to go tubing. They just don't think about it."
Instead, the poster distributed by the Respect the Yampa Committee urges floaters to use snugly fitting river sandals or laced shoes that are less likely to be lost in the river.
In addition, Jeffery said, river users are reminded to leave alcoholic beverages behind, carpool to put-in and take-out points and respect other river users.
"I think we've taken a good first stab at getting people to respect the river," Van De Carr said. "And I also think it's proof we can all get along."