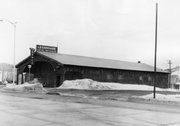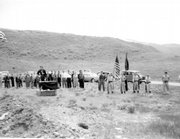 Steamboat Springs — During its 89-year history, Steamboat's Leo Hill Post No. 44 of the American Legion has held 88 Memorial Day services and led 87 Fourth of July color guards.
Members of the veteran support organization sponsored the town's Fourth of July celebration for four decades, starting the celebration's holiday fireworks and running them through the late 1990s.
In the early '30s, the group's holiday dances were popular enough to warrant purchase of the Chieftain Ballroom, a venue it held until 1954; the Legion maintained a community center until the late 1970s.
The 44th post to receive its charter in Colorado - and one of three posts in Routt County, along with Legion groups in Hayden and Yampa - No. 44 has a storied history as one of the county's oldest continuous community organizations.
American Legion posts across the country celebrate the national organization's 90th birthday today, as both houses of the U.S. Congress have passed resolutions declaring it "American Legion Day." American Legion "was chartered : as a patriotic, mutual-help, war-time veterans organization," and now has almost 3 million members, according to the Legion Web site.
"We were chartered in 1920, just a few months after the American Legion received its national charter from Congress in 1919," said Steamboat post adjutant Jim Stanko, an Army veteran and 23-year Legionnaire.
Steamboat's charter group had 40 members. These days, Post No. 44 has almost 90 members. They meet four times a year and host several community services and celebrations.
The post puts on a Memorial Day service at the Steamboat Springs Cemetery with the local VFW post; provides honor guard for an average of five funerals annually; provides color guard for various events and sponsors an American Legion league baseball team.
All three Routt County American Legion posts send candidates to Boys State each summer. Instead of hosting its annual Veterans Day dinner this year, the post plans to hold a United Service Organizations, or USO, fundraiser and dance with music from the 1950s, '60s and '70s on Nov. 7, Stanko said.
"The Legion, over the years since its existence it's been a major force in advocating veterans' rights, and we're glad Congress took the chance to recognize us on our 90th birthday," Stanko said.
Post No. 189
Yampa native and Legionnaire Ed Farrington has been a member of Post No. 189 for about 65 years, or about as long as it's been chartered.
A World War II veteran, Farrington signed up for the organization after serving in the Navy, and through the years has held every Legion officer position that exists.
The charter includes several members who have been on the roster for more than 50 years, he said, and draws close to 20 veterans each year for its Memorial Day service at the Yampa Cemetery.
Post No. 189 meets once a month. In addition to Memorial Day, the group celebrates Flag Day; leads the Yampa Fourth of July parade; and sponsors a skating rink behind its hall. The group holds a Veterans Day dinner; hosts memorials for deceased veterans; is involved in community projects; and sponsors Labor Day bingo in Oak Creek.
The post's 2009 candidate for Boys State, Soroco High School senior Matt Watwood, was one of two Colorado representatives at Boys Nation in Washington, D.C., in July.
Post No. 89
The Benjamin J. Hofstetter Post No. 89 in Hayden has been around since the early 1920s, said member and former post commander Ron Nereson. Nereson served in the Army during the Vietnam War and joined the American Legion in 1971.
Since the late '50s, the group has held meetings in an old church that stood in one-time mining town Mount Harris. The group meets once a month and is involved in sponsoring an oratorical contest; sells concessions at the Hayden Speedway and the Routt County Fair; leads the fair parade; and holds a Memorial Day service and a community cookout;
"The organization was put together to support veterans and veterans' rights, but a lot of what we do here in Hayden is youth education," Nereson said.
For more information about Routt County American Legion posts, go to www.legion.org.