Document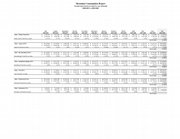 Steamboat Springs — Year-to-date decreases in the city of Steamboat Springs' sales tax revenues passed the $2 million mark in July, but the rate of decline was not as severe as June's 20 percent drop.
City sales tax fell $314,762, or 18.2 percent, in July compared with the same month last year. Year-to-date, the city has collected $10.2 million in sales tax, a 16.8 percent decrease from the $12.2 million collected through the first seven months of 2008. While the percentage decline in sales backed off a bit from June's peak, July is a busier month and the dollar-amount decrease was nearly the same.
"It's somewhat encouraging that we're not continuing to see the momentum shifting downward," Steamboat Springs City Councilman Jon Quinn said. "I'll take that as a glass half-full."
Sales tax is the city's primary source of revenue. City Revenue Supervisor Kim Weber said the city still is within the range of massive budget cuts it made earlier this year to balance its budget. Those cuts allowed for an 18 to 19 percent decrease in general fund sales tax revenue this year. General fund sales tax revenue is down 14.1 percent through July. The city's urban renewal authority at the base of Steamboat Ski Area has absorbed the remainder of sales tax loss.
"We're hoping that June was the peak, but we're just waiting to see what each month brings," Weber said.
With a sales decrease of just 9.1 percent, downtown fared much better than other areas of the city in July. The city collected $322,497 in sales tax downtown in July compared to $354,776 in 2008.
"We've got a lot going on downtown, and there's not a lot going on in other places, I guess," said Tracy Barnett, of Mainstreet Steamboat Springs, who noted events such as the recently concluded Farmers Market on Saturdays and individual businesses' specials. "I think the merchants are really reaching out. The restaurants are having amazing specials. : I think they're doing everything they can to entice people to come eat, come shop, come do something."
Western Steamboat fared the worst by area, with a 35.4 percent decrease in sales activity.
By category, liquor stores and restaurants fared better than other businesses with 6.5 percent and 8.8 percent decreases in sales, respectively. Miscellaneous retail had the worst month with a 22.9 percent decrease in sales. The lodging sector wasn't far behind with a 21.2 percent decrease in sales.
"Even though the lodges may have been busier than expected, it was at reduced rates," Weber said.