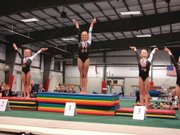 Steamboat Springs — The Steamboat Golden Girls tennis team traveled to Denver on Sept. 5, where the team finished second in the 3.5 division of the Super Senior District Championship. The team led by Jo Ann Lathrop was hoping to advance to the sectional tournament later this year but needed to win the tournament to get an invitation.
Bobbie Beall, Roberta Gill, Jan McGinnis, Marlyn Meyer, Marcia Pomietlasz, Karel Snell and Jeannie Wolf played on the team. The Super Senior team is made up of players at least 60 years old. The Steamboat team has played in the district tournament for the past three years.
The team members played twice each day during the two-day tournament. More than 280 men and women played in the 3.5 and 4.0 divisions at the tournament, and only the winners advanced to the sectional tournament.
Steamboat's Kathi Skytta also played with a 4.0 super senior team from Vail that finished second overall.
Local gymnasts take center stage at competition
Sixty-one athletes from Steamboat Springs, Northglenn and Boulder competed in the first Junior Olympic Girls Gymnastics competition held at Excel Gymnastics on Sept. 5.
The meet consisted of girls compulsory events on vault, beam, floor and uneven bars for athletes in levels 4, 5 and 6. Teams from the Colorado Athletic Training School and Gymnastics Unlimited competed in the first session, which consisted of 25 Level 6 athletes. The girls competed in all four events, with points being tallied for the all-around and team titles. Caitlyn Kendro, of Gymnastics Unlimited, won the individual title in the event with a score of 34.7. Gymnastics Unlimited also won the team title for the first session.
Steamboat's Excel Gymnastics had five athletes competing at Level 5, and seven competing at Level 4 in the second session. It was the first meet for five of the seven athletes competing at Level 4. Maggie McElhiney finished first for the Level 5 division, and teammate Julia Gibbs was second in the all-around. McElhiney finished with a 9.0 score in all four events and finished with a combined score of 37.1. McEhiney, Gibbs, Taylor Rogers, Emily Groves and Patricia Davie combined to bring home the first-place trophy in the team event, as well.
Alyssa Groves placed fifth in the Level 4 group with a score of 34.9, and Taylor Wiese was sixth at 33.9. The two Steamboat girls were the only ones with previous experience. Emma and Amie Cooke, Sophia Grewal, Caelan Daly and Sydney Shelton also competed in the level four events.