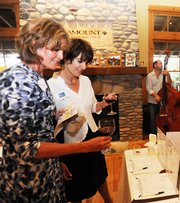 Steamboat Springs — Last year, 10-year-old Chris Sales and his mentor, Tony Stich, did a lot of fishing and other outdoor activities.
The two were paired through Partners in Routt County. The mentoring organization matches at-risk youths ages 7 to 17 with adult volunteers who have similar interests and personalities. The pairs participate in activities together for at least three hours a week. Stich and Chris were greeting guests at Partners' third annual Java & Jazz fundraiser, held Sunday evening at the Lake Catamount Clubhouse.
Partners Executive Director Libby Foster said she hoped the event would attract more than 150 people to raise at least $27,000, to exceed what Java & Jazz raised last year.
"We've been very fortunate this year," Foster said. "It's obviously a very difficult economy. We have so many supporters. We're fortunate so many people have stepped up despite their own struggles.
"It makes you feel good about the community we live in."
Guests were able to try specialty coffees and hors d'oeuvres, desserts and wine while listening to live jazz performed by the Jon Ridnell Quartet, of Denver. A wide variety of silent auction items also were available, including restaurant gift certificates, spa packages, skis, ski passes and outdoor adventure trips.
In addition to supporting the 14-year-old organization's programs, this year Foster said about three-quarters of the money raised would be dedicated to support the living allowance for a new AmeriCorps mentor to work for the organization's school-based mentor program. After receiving a $12,600 federal stimulus grant, Partners was able to hire another mentor to work in one of the county's middle schools, bringing its total to seven - three in Steamboat and two each in Hayden and South Routt. But it needed to cover the cost to do so, Foster said.
Board member Maureen Maloney said one of the fundraiser's benefits was letting the community know about Partners and "the wonderful reasons this organization is important for the children in the county."
Board President Jane Toothaker said that message was especially important now.
"This year, we're seeing a need for our services grow because of the stress people are feeling in general," she said.
Steamboat residents Becky Lewis and Jerry Johnson were two of the many people at Catamount on Sunday to support Partners.
"I'm lucky enough to live here, and I want to give as much as I can to the community," Lewis said.
Johnson said he and Lewis got involved with Partners after some friends told them about what the organization did for children throughout the Yampa Valley.
"The youth of the community, there's nothing more important than that," Johnson said. "Everyone should play a part in their development."
Stich, a retired Stagecoach resident, said he initially volunteered with Partners last year because with his daughters in Connecticut, he and his wife rarely got to see their grandchildren. It also gave him an opportunity to give back to the community. And he joked that he never had a son.
In addition to fishing, Stich took Chris hiking, camping, to Garden of the Gods Park and the U.S. Air Force Academy in Colorado Springs. The pair also helped clean up Decker Park in Oak Creek as part of a community service project. But Chris, who attends South Routt Elementary School in Yampa, said visiting a fish hatchery was his favorite.
"It's a good experience," Stich said. "My little guy is a lot of fun."
Toothaker said the organization always is looking for senior partners, especially males, from throughout the county. Toothaker said there are about 40 partnerships with about 25 children on a waiting list.
For more information or to become a senior partner, contact Erin Murphy at 879-6141, e-mail erin@partnersrouttcounty.org or visit www.partnersrouttcounty.org.