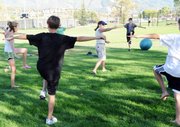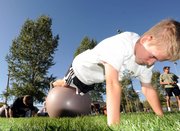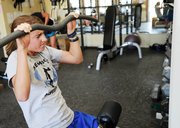 A few quick tips
If you don't have the time to sign up with a personal trainer or one of several ski-fitness classes offered across Steamboat Springs, your physical outlook isn't hopeless.
- Area physical therapists say achieving specialized exercises can really help, but just being in shape is a major step toward avoiding injuries on the slopes. There's still plenty of time to get moving down the extensive trail systems in and around Steamboat Springs. Whether you hit the trails biking, hiking or running, just getting out is a big first step.
- Stay loose. Stretching is key. Mark Jones, an exercise physiologist for Optimum Fitness, said he guides clients through extensive motion-based stretching routines designed to loosen their muscles and tendons and expand flexibility. You can get a head start on that process by going through an extensive but static stretching routine at home every night in your bedroom. He said doing the work at night makes for better long-term results.
- Bring those poles. Birgitta Lindgren, director of the Steamboat Nordic Center, said the easiest thing aspiring cross-country skiers can do to prepare for the coming season is hike with their poles. "No. 1, it helps keep balance for anyone that has a problem with that," she said. "More importantly, you're exercising your entire body that way."
- Pilates might not seem like the ideal path to winter fitness, but it can be a great help to balance and core strength. Marnie Smith is leading the Winter Sports Club dryland training classes in the exercises, and classes designed to build up core strength for skiing are available at several Steamboat gyms. "Most people think it's just abdominal strengthening, but it's more than that," Forever Fit physical therapist Lisa Recker said. "You move from the core and if you have a really stable core, you can get more power. And it helps balance a lot, which you need for skiing."
- It doesn't have to be hard, Fusion Fit trainer Sarah Coleman said. Even ditching the car for a day or parking at the far end of the parking lot can get someone on the right track to being ready for the slopes. She also is offering a ski fitness class through Fusion Fitness, which starts Sept. 22.
A half-dozen teenagers and adults chased a soccer ball around the still-green grass on the outfield of a softball diamond at the base of Howelsen Hill.
It could, of course, have easily been confused for a soccer practice.
The group could have been confused for a high school gym class as its members carefully tried to balance on one leg. As participants leaped over short hurdles and ran sprints from one end of the softball outfield to the other, it could have even passed for some optimistic youth training for the Olympics - the 2012 summer version, anyway.
It didn't look like the start of the 2009-10 winter ski season, but it was the snow days of January looming on everyone's minds.
The elite athletes of the Steamboat Springs Winter Sports Club are gearing up for the coming snow.
Are you?
Strengthen up to go down
You don't have to do anything, really. Starting with the opening of the Christie Peak Express on Nov. 25, the first day of the new season, thousands and thousands of skiers and snowboards will assault the slopes of Mount Werner with little or no physical preparation.
And many will slip off their boots and pack away their equipment having endured little more than deep breaths and a few seconds of burning thighs.
But, preparing for the snow season is always a good idea said Mark Jones, an exercise physiologist for Steamboat's Optimum Fitness.
"A fitness program is like an insurance policy," he said Friday, speaking between the personal training appointments that filled his day. "If you're not fit, your risks go up. If you are fit and do get hurt, you have a smaller chance of having a more severe injury."
Jones has plenty of experience carving mountain-ready skiers and snowboarders.
Before moving to Steamboat, he was a ski-fitness specialist in Florida. It was a different world, he explained, as most people wanted to be in shape enough to go hard for three or four days, rather than a whole season.
He said he used to Rollerblade up and down the ramps of empty parking garages to simulate the experience of flying down a mountain. That's no longer required, but many basics he passes along to Steamboat clients are the same he's been touting for years.
"We do a lot of things that involve balance and things that involve simulations of the movement found in skiing," he said.
He said it's also of vital importance for skiers and snowboarders to maintain agility as they grow older.
"As people get older, they begin to slow down. The fast twitch fibers, which are really important, you begin to lose after 30," Jones said. "We try to do a lot of things to stimulate the neuromuscular system and slow the aging process. That will help people maintain their success as a skier, particularly if it's something they've done a lot of in their life."
As easy as a hike
The need to be fit isn't limited to those sliding down the snow. It can be important for those sliding across it, as well.
Josh Smullin is Winter Sports Club's Nordic ability coach in addition to being a fast and avid Nordic skier himself. He never lost the fitness edge he built up last winter, compiling high finishes in many of the summer's Steamboat Springs Running Series events. He also finished second cycling in his division in last week's Steamboat Stage Race.
"We have a saying in cross-country skiing: fitness first. That means if you're in shape, everything will be a lot easier," he said.
With all the focus on lower-body workouts, he said he is devoting his gym-time elsewhere.
"When you get into the weight room, it's a lot more focus on the upper body and core," he said. "In the ski community, upper body strength isn't overlooked, but outside of it, other than using proper technique, it is the area where people can make the biggest gains."
Birgitta Lindgren, director of the Steamboat Nordic Center, said the key to appropriate upper-body work isn't bulking up.
"They just need the strength," she said.
She said preparing for the winter shouldn't be difficult given the still-warm weather.
"This is the time of year that hiking is so wonderful and we always suggest you do so with ski poles," she said. "Walking up Emerald Mountain right now is awesome, or at the ski area or up Fish Creek Falls. If they can just get outside for a little bit - an hour hike three times a week with ski poles and every time out you try to pick up the pace a little - you can feel a lot better the first time you get on skis."