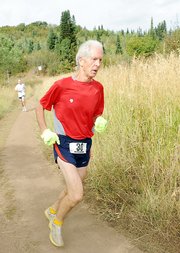 Emerald Mountain Trail Run results
Men's race
1. Harry Niedl, 55:15
2. Derek Leidigh, 56:51
3. Willy Graves, 58:55
4. Scott Blair, 59:48
5. Walter Magill, 1:01:28
6. Ken Rogers, 1:02:10
7. Bart Kounovsky, 1:02:37
8. Robert Collett, 1:04:02
9. Jim Lane, 1:06:12
10. John Williams, 1:08:05
11. Martin Quinn, 1:11:12
12. Avrom Feinberg, 1:11:14
13. James Morton, 1:11:16
15. Tom Nelson, 1:12:43
16. Jim Poussard, 1:12:44
17. Mark Freirich, 1:18:01
18. Sean Doran, 1:20:28
19. Allan Reishus, 1:21:28
20. Charles Martelli, 1:22:36
21. Elias Pacheco, 1:23:07
22. Kol Medina, 1:28:38
23. Mariano Delle Donne, 1:33:11
24. Tom Williams, 2:20:52
Women's race
1. Jenna Gruben, 1:00:53
2. Anne Mudgett, 1:06:09
3. Genevieve Dice, 1:07:54
4. Mary Schuette, 1:08:41
5. Lisa Adams, 1:10:59
6. Hannah Williams, 1:17:48
7. Christine Shook, 1:19:25
8. Nicole Dolence, 1:20:55
9. Sarah Kostin, 1:21:14
10. Tanya Yaskoff, 1:22:33
11. Averill Hovey, 1:25:16
12. Kathy Huettl, 1:25:57
13. Angela Finnegan, 1:26:05
14. Brynna Vogt, 1:27:54
15. Elsa Watson, 1:28:38
16. Jennifer Hoctor, 1:38:12
17. Megan Forsyth, 1:38:12
Men's season points
1. Harry Niedl, 139
2. Tom Nelson, 97
3. Allen Belshaw, 77
Women's season points
1. Hannah Williams, 105
2. Lisa Adams, 102
3. Mary Schuette, 88
Steamboat Springs — Harry Niedl said he didn't realize he had a chance to win the season-long Steamboat Springs Running Series points race until two or three races into the season.
Preparing for two months of climbing in Europe and an eventual move to California, he has no illusions of defending his title, either.
For now, though, Niedl is the king. Although he built an insurmountable lead heading into Saturday's final points-awarding race, the Emerald Mountain Trail Run, he put an exclamation point on what was an excellent season, winning the 7.5-mile race in 55 minutes, 15 seconds.
"It feels great," Niedl said. "It was great fall weather and very nice."
Niedl added 20 more points to his total to finish with 139, well ahead of second-place Tom Nelson's 97 and third-place Allen Belshaw's 77.
"I was checking out last year's results, and I realized not everyone does all the races," Niedl said. "I thought, 'Maybe if I do all the races, even if there's a really strong guy who wins races, I could win.' Todd Trapp, who won last year, didn't show up, so after the second or third race, I thought 'Well :'"
The women's season-long points race lacked the dramatic "proving it" moment Niedl provided, but it still had plenty of drama.
Lisa Adams and Hannah Williams entered the race tied atop the leaderboard. Adams finished better in the race, crossing the line at 1:10:59 in fifth place, behind women's champion Jenna Gruben's time of 1:00:53.
Williams emerged the overall season champion, however. Points are awarded for overall finish and finish within a runner's age group. Williams was sixth, one place and about seven minutes behind Adams, but second in her 20 to 29 age group. Adams, meanwhile, finished fourth in her 30 to 39 group, just far back enough to give Williams the overall edge.
Neither was sweating the
details as they celebrated after the race at a postseason party.
"I knew I wanted to do a lot of the running series races this year. It's just a lot of fun," Williams said. "It was a personal thing to get out here and run some of the events. I definitely wasn't expecting to do so well with the points."
Williams finished with 105 points, and Adams had 102. Mary Schuette was third among the women's season-long competitors with 88 points.
As for Saturday's event, the runners reveled in their last chance at competition. It was the first year for the Emerald Mountain run, and the pack found all the challenge it could handle.
"It was pretty difficult," Williams said. "I'm not used to running on Howelsen. I don't train over here much."
Gruben dominated the women's race, finishing well ahead of second-place Anne Mudgett, with 1:06:09, and Genevieve Dice, in 1:07:54.
"It was a nice small, local race," Gruben said. "It was a good course. Like anything else on Emerald, there was a lot of uphill. I love these trails, and I really like smaller, local events like this."
Niedl, meanwhile, battled throughout hilly singletrack trail. He passed Derek Leidigh midway through the race and never relented. Leidigh finished second at 56:51. Willy Graves was third in 58:55.
The last running series event is next weekend's Run, Rabbit Run 50-mile ultra trial marathon starting at Steamboat Ski Area.