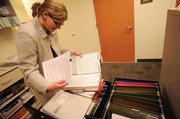 Steamboat Springs — The Routt County District Attorney's Office is streamlining and rebuilding after going from three deputy district attorneys to just one in previous months.
Fourteenth Judicial District Attorney Elizabeth Oldham, who oversees Routt, Moffat and Grand county offices, said a new deputy DA will start working in Routt County on Oct. 1 as a senior attorney.
Deputy DA Rusty Prindle has been the sole deputy in the office for the past month since the departure of deputy DA Rebecca Voymas and deputy DA Carl Stahl weeks before that. The high caseload has meant Prindle has been working nights and weekends, and calling for reinforcements when needed.
"He's been fantastic in stepping up to the plate and covering," Oldham said.
Prindle has asked for help from attorneys in neighboring counties when he had scheduling conflicts - usually court in two courtrooms at once. Oldham also has helped take cases on some days, but she was occupied with the
successful prosecution of Terry Hankins in Moffat County for several weeks.
Oldham said the office worked to save time and money by offering plea bargains earlier in cases than they typically would.
Prindle emphasized that the pleas offered are the same as always, dictated by the same guidelines, but are available sooner. That move clears up the docket by not having defendants return multiple times.
"If it's a reasonable plea offer, which it always is, the case is disposed of earlier in the process," he said.
New deputy prosecutor
Oldham said the changes in the Routt County office are the result of "healthy turnover," and she has hired Amy Richards, a felony attorney from Arapahoe County, to join the Routt County office.
Oldham said Richards will be the senior attorney in the office and will handle most of the felony cases. Prindle will finish working on all pending cases, then will take control of the Routt County Court cases.
Oldham said she is reluctant to hire a third deputy because of a potential 5 percent budget cut for her office. Although there have been no final decisions about the budget, she said she expects her budget, determined through an agreement between the three counties, to be cut for the coming year.
"I don't want to decrease salaries. I'll probably have to fiddle with the positions so we don't have to do that," Oldham said. "It's really a balancing act, because even if our budget is reduced, we're still bound to provide the best possible job and make sure justice occurs."
Oldham said three recent murder trials, including the retrial of Thomas Johnson, took a drain on the budget because it was set in Fort Collins. The office had to pay for witnesses' travel and lodging for the attorneys for the 12-day duration of the trial, plus time for preparation.
"We have mandated costs from the state, and we can have help with witness fees and other types of things," Oldham said. "But a lot of times, that comes out of our budget. That pot only has so much money."
Oldham presented the Routt County commissioners with a list of $42,700 in cuts to the Routt County office's operating budget. The office did not have the 10 percent mandated pay cuts that other Routt County offices faced because the Moffat and Grand county commissioners did not agree to the cuts.