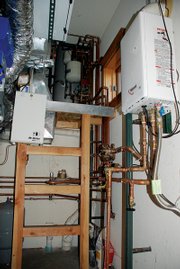 Sites proposed for new CMC geoexchange building
Colorado Mountain College officials unveiled possible sites Wednesday night for the proposed 40,000-square-foot facility on the Alpine campus.
Those sites are south of Bristol Hall, farther south of Bristol and east of Monson Hall, and east of Bristol across Bob Adams Drive.
The facility likely would replace the 40-year-old Bogue, Monson and Willett halls, but those buildings likely wouldn't be demolished until after the new facility was constructed.
College officials haven't determined what services the facility would offer, but they indicated several possibilities. They include a main entry hub; offices for administration, student affairs and registration and admission; an assembly hall auditorium; bookstore and cyber cafe; dining hall; student union; learning lab; wellness center; and classrooms for ski business, outdoor studies, resort management, emergency medical training, art, wellness and martial arts.
New programs that could accompany construction of the facility are early childhood teaching, ceramics and kiln, and geoenergy.
Construction of the facility also would require an additional access point required by the city of Steamboat Springs, officials said. Current options include from 13th Street and Lincoln Avenue, and Crawford Avenue from 12th Street.
Steamboat Springs — Colorado Mountain College officials are excited about a proposed 40,000-square-foot facility on the Alpine campus continuing the college's emphasis on sustainability, Nancy Genova, executive vice president of college initiatives and innovations, said during a meeting Wednesday night.
During the meeting held at Centennail Hall in downtown Steamboat Springs, Genova said the college had applied for a $5 million U.S. Department of Energy grant to help fund a geoexchange technology system to heat and cool the building. Teaming with the Colorado School of Mines in Golden, college officials hope the Alpine campus will become a leader in geoexchange technology and education.
"We think this can become an international academy where people can come to learn all about geoexchange," Genova said.
Geo technology systems aren't new, but they're becoming more popular, Terry Proffer said. He is a certified geoexchange designer and International Ground Source Heat Pump Association certified trainer with Major Geothermal, of Wheatridge. Proffer said ground source heat pump systems, which use geoexchange or geothermal technologies have been around since the 1950s, but there's a lot of confusion about the difference between the two.
Proffer said geothermal technology draws heat from the earth using geologic water sources such as a natural hot spring or a high-temperature well to heat a building. He said geoexchange, on the other hand doesn't require a heated water source.
There are two types of geoexchange, open- or closed-loop, Proffer said. He said an open system requires a water source, which is pumped through a piping or coiling system and then is heated by a pump to heat a building. A closed loop system doesn't require a water source, Proffer said, but instead heats water already within pipes or coils with a heating pump.
Steamboat resident Herald Stout installed a closed-loop system when he built his home about three years ago, and in two homes at the Park Place subdivision, which Stout, a Realtor, managed as part of the development team.
"It's basically an earth radiator, so it allows you to draw heat from the earth," he said. "It can be heated using a (ground source) heat pump. Water is stored in heating tanks for domestic water and in-floor heating."
The process is basically reversed to cool his home in the summer by pulling heat from it and diverting energy back into the ground.
A similar system was completed last year at the South Routt School District to replace 30-year-old coal boilers. The South Routt system also includes biomass boilers that burn wood pellets and propane heaters.
Proffer designed that system for the school district. He said systems using geoexchange are becoming more popular among school districts in Colorado and across the country.
"There's enough of them that school districts are realizing it saves them an awful lot of money in operating and maintenance costs," Proffer said, which are much lower than conventional heating and cooling systems. "A lot of people want to go green, but they don't want to do it unless it's economically justified. : Larger (geoexchange) projects are about the same cost as conventional heating and cooling systems. It makes the cost easy to digest from the get-go."
He said most schools spend 75 cents to $1 per square foot on heating and cooling depending on the system, while geoexchange costs about half that. Proffer added that the life span of a ground source heat pump system using geoexchange could be as many as 50 years.
For residential systems - Major Geothermal has designed between 15 and 20 in Steamboat - Proffer said the return on investment is much slower than commercial systems.
Stout said he estimated that his system payback would be 14 years but initially installed it for the long-term cost savings and environmental benefits. Proffer said the worst-case scenario on payback for a commercial building would average 5 to 8 years. However, he said the best-case scenario for geoexchange, which sometimes can cost less to install and costs less to operate and maintain than a conventional system, is an immediate return on investment.
There's still a long time before the college's facility using geoexchange becomes a reality.
Cyd Pougiales, the Steamboat-based architect with Thira Inc. who will design the facility, said the college wouldn't hear whether it secured the grant funding until December at the earliest. She said the schematic design would be completed by March and that the final development plan likely would be submitted to the city of Steamboat Springs at about that time.
Pougiales said the $10 million to $12 million facility would be Leadership in Energy and Environmental Design certified silver or equivalent. Groundbreaking wouldn't occur until 2012, she said.
Still, college officials beamed Wednesday night, merely discussing the possibilities for the facility.
"We hope it will be a terrific asset for students, faculty and staff," said Stan Jensen, president of the college. "And an asset for the community of Steamboat Springs."