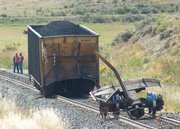 Oak Creek — One car of a 104-car Union Pacific Railroad coal train came off its wheels south of Oak Creek at about 3:45 Friday morning, leaving the car upright and resting on the tracks.
There were no injuries in the accident, and mechanics from Union Pacific were immediately dispatched to the scene, Union Pacific spokesman Mark Davis said.
Davis, based in Omaha, said the train had six locomotives and was headed from the Twentymile Coal Co.'s Foidel Creek Mine to a utility company south of Cañon City. The train was loaded with coal at the time of the accident. The car, which came off one of its two sets of wheel carriages weighed about 125 tons, Davis said. When the car and its separated wheels came to rest, they were less than 50 feet apart.
Davis said it was not yet clear Friday morning why the car lost its wheels, but that it is likely because of mechanical failure
Crews were expected to use cranes and specially equipped bulldozers to move the broken car and repair it if possible.
"If it's upright, once they do their inspections, it should take literally minutes once the equipment arrives," he said. A bulldozer and specialized cranes arrived at about 11:30 a.m. Friday, and Davis said it appears the broken car was placed back on the wheels and removed by early Friday afternoon. Davis said he did not know where the repair crews were dispatched from, but records show it took them about three hours to arrive on scene.
Davis said it did not appear that any other trains were delayed or rerouted because of the accident.
Routt County Communications Director JP Harris said the dispatch center received a call directly from Union Pacific informing them about the crash but did not receive any 911 calls. Routt County Sheriff's Office receptionist Chris Huffar said deputies were not called to the scene.
There are no homes near the site of the derailment, and there was no apparent damage to the tracks.
Friday's incident did not involve a collision with a motor vehicle. But Rout County has seen a substantial number of such incidents.
In September 2006, after the third vehicle-train collision in 10 months, Steamboat Today eported that Routt County had seen 37 vehicle-train collisions since 1975. In August 2007, a westbound coal train struck the back of a semitrailer as it attempted to turn east onto U.S. Highway 40 from a private driveway that was intersected by the railroad tracks on the west side of Steamboat Springs.