Election 2009
Visit
www.steamboatpilot.com/election2009
for complete coverage of this year's races and issues.
Candidates
District 1 (four years): Cari Hermacinski (at-large incumbent, council president pro tem), Kevin Bennett (former council president)
- District 2 (four years): Kenny Reisman, Ken Solomon
- District 3 (four years): Walter Magill (District 3 incumbent)
- At-large (two years): Jim Engelken (former councilman), Kyle Pietras
- Not up for election: Scott Myller (District 1), Meg Bentley (District 2), Jon Quinn (District 3)
- Leaving council: Loui Antonucci (District 2, council president, term-limited), Steve Ivancie (District 1, term-limited)
Watch the forum
The entirety of Friday's forum will be broadcast on the city's television station, Steamboat's TV6, at 7 p.m. Monday.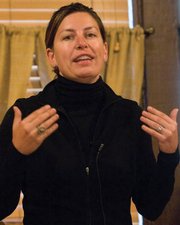 Steamboat Springs — Evidence is mounting that the biggest issue has been taken off the table in the most compelling race in the 2009 City Council election.
Former City Council President Kevin Bennett has made his opposition to the proposed Steamboat 700 annexation a cornerstone of his campaign against City Council President Pro Tem Cari Hermacinski. But in recent public comments, Hermacinski has expressed her own hesitancy about the project, perhaps rendering the debate moot.
The Old Town neighbors are opponents in the race for a four-year, District 1 seat. Hermacinski currently holds council's two-year, at-large seat. Steamboat 700 proposes about 2,000 homes and 380,000 square feet of commercial space on 487 acres just west of city limits.
At a Steamboat Springs Chamber Resort Association event Friday morning, Hermacinski reiterated concerns about Steamboat 700 that she first raised at a City Council meeting Tuesday. At a potential cost of more than $100 million, Hermacinski said improvements to U.S. Highway 40 alone are so expensive that they threaten the viability of the project and undermine the No. 1 goal of the West of Steamboat Springs Area Plan: affordable housing. She said the WSSAP was written under the assumption that the state and federal government would help pay for the improvements, a prospect that is unlikely in the near term given budget constraints.
"I'm concerned that the WSSAP, in light of some fundamental shifts in government funding and the economy, provides us with an unsolvable mandate," Hermacinski said. "I don't expect that growth will be an issue for the next four years, which is the length of the term for which we are vying."
Hermacinski also stayed silent about the city's water agreement with Steamboat 700, which she has previously vehemently defended, after Bennett leveled heavy criticisms against it.
Bennett said the current City Council has been too growth-minded and let issues such as park creation and open space preservation - top priorities of residents according to community surveys - fall by the wayside. Bennett highlighted the accomplishments of his 1990s councils in those areas.
"I have great concerns about the direction our council has brought our city in the past two years," Bennett said. "They have focused us on annexation, and that is my concern. : I'm opposed to this annexation."
Hermacinski acknowledged that, before to her recent concerns, she has worked diligently with the rest of council, city staff and Steamboat 700 to implement the WSSAP. Bennett said he would bring a renewed emphasis to grant writing and partnerships to pay for new city amenities.
Other races
District 2 candidates Kenny Reisman and Ken Solomon have previously expressed differing opinions for and against Steamboat 700, respectively, but both men focused on other subjects Friday.
After serving on several community boards and advisory councils, Solomon said he sees City Council as another opportunity to serve. He said council members should focus on the quality of life Steamboat residents love so much.
"We need to think about value investing versus growth investing," Solomon said. "I will do my research, and I will listen to my community before making decisions."
Reisman said the community needs to focus on supporting businesses and attracting tourism by encouraging events such as Triple Crown Sports' summer baseball and softball tournaments in Steamboat.
"We need to be continually attracting people to come here," Reisman said. "At the end of the day, if we are committed to being a sales-tax-based economy, we must maintain these business relationships."
At-large candidates Jim Engelken and Kyle Pietras joked that their young daughters are good friends at Discovery Learning Center. The two clash on the issue of growth. Engelken, who also is a former council member, said he was spurred to run by his displeasure with the current council.
"I'm not anti-growth," Engelken said, "but I do believe we need to have : responsible growth, growth that enhances the city, not hurt it."
Pietras said the city needs growth to ensure future generations of working-class residents can call Steamboat home.
"As a local business owner, I know what local people : are dealing with," Pietras said. "One reason that I'm running for City Council is to put myself out of my comfort zone. : I think Steamboat might need to do this, as well."
Councilman Walter Magill is running unopposed for a four-year, District 3 seat. He said that fact is both good news and bad news.
"Maybe it says I'm doing a good job," Magill said, "but we have a lot of brain trust sitting on the side."
The entirety of Friday's forum will be broadcast on the city's television station, Comcast Channel 6 at 7 p.m. Monday. City Information Services Manager Mike Schmidt said the forum also will be made available on the city's Web site, www.steamboatsprings.net, next week.