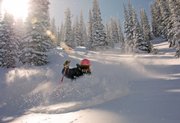 2009 Steamboat Mountain Film Festival
Sept. 18 - Tickets go on sale at Ski Haus
Sept. 25 - Festival submissions are due by 5 p.m.
Oct. 2 - Screening Teton Gravity Research's "Re: Session" at 7 p.m.
Oct. 3 - Video teasers for Reel People action film submissions will be available for viewing and voting at www.steamboatfilmfestival.com
Oct. 23 - Submitted local film screenings at 7 p.m.
Oct. 24 - Michael Martin Productions film screening at 7 p.m., awards ceremony at 8:30 p.m., Matchstick Productions screening at 9 p.m.
Steamboat Springs — Kerry Lofy has been filming his exploits on snow for about 10 years. For the past four years, those tricks and backcountry adventures have been on public display as part of the Steamboat Mountain Film Festival.
In 2008, Lofy's "Chronicles of Gnar" took third place in the festival's Best Overall competition and placed in the top three of a People's Choice race. Lofy has worked on two films for the 2009 event, which kicks off Oct. 2.
Tickets go on sale at Ski Haus on Sept. 18 for $15, and submissions for the festival are due Sept. 25. Tickets are sold by the day and include admission to all screenings for that day.
"I don't know if it's just the fun, or to show the different areas or the different experiences," Lofy said about his motivation to continue submitting films. "Each year the film gets way better."
Michael Martin - who directs the ski and snowboard business program at Colorado Mountain College's Alpine Campus and founded the festival in 2003 as a way to show his own ski films - said the seventh annual Mountain Film Festival sticks to the formula he's developed in the past few years. Festival screenings include locally produced ski films and premieres from professional companies including Teton Gravity Research and Matchstick Productions.
"Re: Session" trailer
Most submissions are related to action sports and are divided into categories that also include adventure-themed films. A panel of industry judges will be on hand to rate some submissions, while others up for the People's Choice award are decided by online voting.
"We look for quality of production, quality in storytelling and screenwriting, quality in editing - essentially kind of the three tiers on film making," Martin said. "We look for films that have a unique flair to them, a unique story to tell."
About 35 submissions have come in for this year's event, which starts with a screening of Teton Gravity Research's newest film, "Re: Session," on Oct. 2. The festival continues on Oct. 23 and 24, with screenings of submitted films and professional ski movies. Standard Films' "Black Winter" will be the Mountain Film Festival's first big-time snowboard movie premiere, Martin said. He expects to see about 45 festival submissions by deadline day, he said.
"I think generally speaking we've seen a broader reach, and I think that's just infiltrating more and more (film festival) Web sites and different areas," Martin said.
Guidelines
All submissions for the seventh annual Steamboat Mountain Film Festival are due to festival organizer Michael Martin by 5 p.m. Sept. 25. Entries can be in video or DVD format, and can be delivered to the drop box in front of Monson 310 at Colorado Mountain College; or mailed to Steamboat Mountain Film Festival, c/o Michael Martin, P.O. Box 882322, Steamboat Springs, CO 80488, according to the festival Web site.
There are two categories: Reel People and Reel Open. Reel People submissions must include an action sport, such as skiing, snowboarding, biking, climbing or kayaking. Films are limited to 25 minutes including credits, and contestants are asked to submit a three- to five-minute teaser for a People's Choice online competition. Contests in the Reel People category include People's Choice, Best Powder and Best Line/Performance.
Reel Open submissions can be any length and must be loosely related to adventure. Contests in the Reel Open category are up for the Best Overall award, which is divided into professional and intermediate categories.
For a full list of rules and guidelines, go to www.steamboatfilmfestival.com/submit.
- To reach Margaret Hair, call 871-4204 or e-mail mhair@steamboatpilot.com.