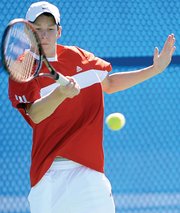 Results
- No. 1 singles - Jamey Swiggart, Steamboat, def. Alex Kent, Air Academy, 6-0, 6-0
- No. 2 singles - Keegan Burger, Steamboat, def. Stuart White, Air Academy, 6-4, 6-0
- No. 3 singles - Mirko Erspamer, Steamboat, def. Kollen Kaltenbacher, Air Academy, 6-3, 6-7 (4), 6-3
- No. 1 doubles - Jeff Lambert and Jack Berger, Steamboat, def. Brandon Kuzara and Nick Nelson, Air Academy, 6-4, 4-6, 6-1
- No. 2 doubles - Vladen Chase and Max Rhodes, Steamboat, def. Alex Littleton and Chris Pace, Air Academy, 4-6, 6-2, 6-4
- No. 3 doubles - Callum Richman and Luke Farney, Steamboat, def. Grant Voyen and Jeff Milliman, Air Academy, 6-1, 7-5
- No. 4 doubles - Sam Walker and Kent Schaller, Air Academy, def. Kyle Rogers and Gabri Erspamer, Steamboat, 6-7 (6), 6-3, 4-6.
Steamboat Springs — The Steamboat Springs High School boys tennis team found a range of performances Wednesday in a home dual against Air Academy, with the Sailors turning in efforts dominant and gutty, and all strong.
It was enough to power the squad to victories in six of the day's seven matches and set the stage for one of the most challenging weekends of the season.
"This is what we needed," Steamboat coach John Aragon said. "Air Academy is a good, solid 5A program, a well-coached team, and to get a win like we did was huge for our program."
At the top of the card, Steamboat found its dominance.
No. 1 singles player Jamey Swiggart quickly dispatched Alex Kent, winning in two sets, 6-0, 6-0.
Keegan Burger, playing in the No. 2 singles slot, was similarly effective. He struggled a little in the first set but surged in the second, winning, 6-4, 6-0, against Stuart White.
Steamboat also got a two-set win from its No. 3 doubles team of Callum Richman and Luke Farney. The pair defeated Grant Voyen and Jeff Milliman, 6-1, 7-5.
It wasn't all so easy, though, and Steamboat picked up tough wins at No. 3 singles and No. 1 and No. 2 doubles.
The longest match of the day came as Steamboat's Mirko Erspamer outlasted Kollen Kaltenbacher, 6-3, 6-7 (4), 6-3.
Erspamer had control of the match and seemed to have Kaltenbacher on his final legs. The Steamboat junior was up 5-4 in the second set and faced two match-point opportunities. He couldn't close it out, however, venting his frustration as a large crowd gathered.
Erspamer squandered the game and the set, but not the match. He roared back in the third and final frame, winning two of the first three games. Given another opportunity, he slammed the door.
"That guy was tough. He hit a lot of balls and made Mirko work," Aragon said. "He had to grind out that win. That's his style, and that's why he's 5-0."
The No. 1 and No. 2 doubles teams had similar lapses but also managed to pull out victories. Jeff Lambert and Jack Burger beat Brandon Kuzara and Nick Nelson despite giving up the second set after leading it 4-1. The Steamboat pair went on to win, 6-4, 4-6, 6-1.
Vladen Chase and Max Rodes, meanwhile, had their stumble in the first set against Alex Littleton and Chris Pace. They lost 4-6 but cruised in the next two, winning 6-2, 6-4.
"We got ourselves in a hole but fought back," Chase said. "We just had a little slump."
"We put more balls in play and just dominated that second set," Rodes added.
Steamboat's only loss on the day came in another three-set match. The No. 4 doubles team of Kyle Rogers and Gabri Erspamer fell to Sam Walker and Kent Schaller, 6-7 (6), 6-3, 4-6.
"Air Academy probably had the toughest teams in doubles we've played all year," Aragon said. "They were good players."
The team will play today at Fruita, then Friday and Saturday at the Western Slope Open, facing some of the top teams at the Grand Junction tournament.