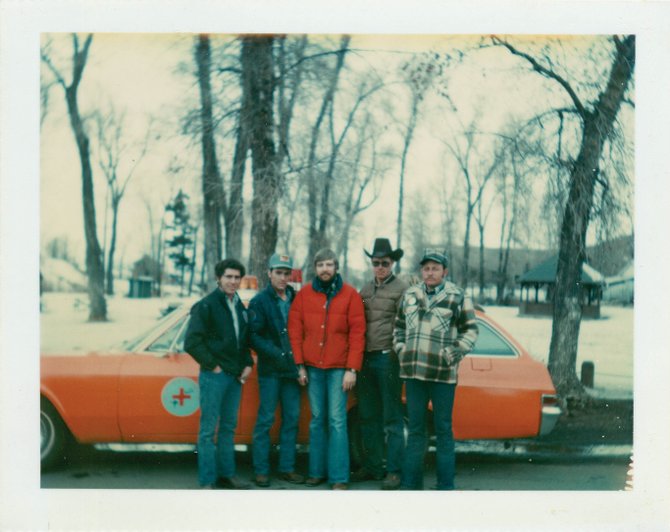 Search and Rescue looks back on 4 decades of missions
Thursday, September 10, 2009
If you go
Routt County Search and Rescue's annual fundraiser is from 5:30 to 10 p.m. Friday at Olympian Hall at Howelsen Hill Lodge. Tickets are $20 and can be purchased from any Search and Rescue member or at Ski Haus.
The event will include a silent auction, music, food and door prizes. The largest door prize is a 2009-10 season pass from Steamboat Ski and Resort Corp. If the winner has already purchased a season pass for the year, Ski Corp. has agreed to refund the price.
For more information or to apply to be a Search and Rescue volunteer, visit www.routtcountysa...>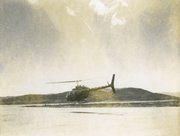 Steamboat Springs — With the temperature dropping and the sun beginning to set over Rabbit Ears Pass on a bluebird day in 1969, Marc Satre heard the snowmobile driven by his friend drop off into a gulley, through the chest-deep snow and out of sight.
Satre, 25 at the time, was with one other friend, 50-something Max Shelby.
40 years of Routt County Search and Rescue
"He said, 'I'll go for help, you go get him,'" Satre recalled this week.
Satre waded through the deep snow and down the embankment, where he found his friend "in bad shape." Satre urged him up, "beating him" to keep him moving. The man collapsed as Satre put him atop the snowmobile.
Satre and his injured friend didn't make it to the nearest road until 1:30 a.m., a full 11 hours after the accident and just as the makeshift search party arranged by Shelby arrived in the parking lot.
Shelby had returned to Steamboat and rushed frantically to gather people, sleds, snowshoes, skis and gear. But it took far too long on a Sunday afternoon.
"We then realized the problems we were facing if somebody got in trouble like that," Satre said.
And so began Routt County Search and Rescue.
Group, mission grows
The initial group of backwoods men had only about six members for its first couple of years in operation. And they had only a few calls a year to respond to, Satre said.
"Back in those days, it was really search and not rescue," he said. "Those of us that really studied the woods were invaluable."
Chuck Vale, another of the group's early members, said it became apparent that local fire departments weren't able to handle the increasing number of people skiing and snowmobiling in the backcountry in the 1970s.
"The fire departments at the time : did most of what we called then rescue, but it had become apparent as more and more people were in the backcountry, especially in the wintertime, that the sheriff had no ability to get a group to go help," he said.
The number of calls, and the scope of the missions handled by the Search and Rescue crew, evolved in the mid-'70s. It led the group to change from a winter-only operation to a year-round, always-on-call organization.
Forty years later, Routt County Search and Rescue has about 30 volunteer members, each required to attend regular trainings and participate in at least a quarter of the 50 or so missions the group now responds to each year.
Ten-year member Greg Hughey joined the all-volunteer force after a scare of his own.
Cross-country skiing on Rabbit Ears Pass in 1997, Hughey became disoriented in blowing snow. Before long, he found himself at the top of Mount Werner looking at the sun-baked and concrete-hard face of Storm Peak. He started down, but after one quick turn his knee twisted on the hard trail and gave way.
Hughey used his brick-sized cell phone to call for help, and Search and Rescue members training at the base of the mountain jumped on snowmobiles to come to his aid.
That's when he knew he would have to join the group.
Funding always an issue
Routt County Search and Rescue is a nonprofit organization under the direction of the Routt County sheriff. The group's annual operating budget is about $80,000, and members stress that the subjects of search and rescue missions are never charged for their services.
The group receives funding from the city of Steamboat Springs and Routt County, but the city cut its contribution to Search and Rescue's 2009 budget by 54 percent, from $43,500 to less than $20,000.
Search and Rescue receives about 80 calls a year, said 16-year member Darrel Levingston. Of that, the volunteers go on about 50 missions. The remainder of the calls are canceled or involve situations in which the rescuers can talk lost parties out of the backcountry over the phone, using GPS data or reports from the lost parties while they are in the wilderness.
The cost to Search and Rescue for each mission varies greatly on the equipment used, Levingston said. Sometimes the fuel needed to get to a mission location is the only expense, while larger missions that require helicopter assistance quickly can reach into the thousands of dollars.
To recoup that money and to cover general expenses such as equipment, the group relies on its annual fundraiser. This year's event is from 5:30 to 10 p.m. Friday at Olympian Hall at Howelsen Hill Lodge. The event will include door prizes, including a 2009-10 season ski pass from Steamboat Ski and Resort Corp. Tickets are $20 and are available from Search and Rescue members and at Ski Haus.
The event also serves as a membership drive. Levingston said the ideal applicant is someone who is available when the rescue page goes out. It could happen at any time of day and any season of the year. Members must always be prepared.
"We don't look at skill sets when we look at new members," he said. Potential members must go through a probationary period with training for medical, rope and outdoor survival skills. Then they must be ready for the calls.
"Over the years, we found that our training program is good enough that when a member gets through that probationary period, which usually takes six months to a year, they will learn the skill sets to do what we need to do," he said. "If they don't have the time available, it doesn't get anywhere."
Once a member, the satisfaction of helping others takes over. Even 16 years later, Levingston still gets that "warm fuzzy feeling."
He and his fellow Search and Rescue members hope Friday's event will not only motivate other residents to become part of the team, but also provide the funding to allow the group to operate well into the future.
What's another 40 years?