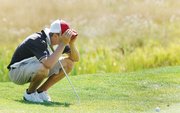 Team scores
1. Battle Mountain, 234 *won on playoff hole
2. Montrose, 234
2. Steamboat, 234
4. Cortez, 235
4. Aspen, 235
6. Fruita, 236
7. Moffat County, 245
8. Eagle Valley, 248
9. Delta, 249
10. Grand Junction, 261
10. Basalt, 261
12. Gunnison, 264
13. Palisade, 266
13. Rifle, 266
15. Roaring Fork, 276
15. Grand Valley, 276
17. Vail Mountain, 280
18. Cedaredge, 282
18. Coal Ridge , 282
20. Central , 283
21. Telluride, 307
22. Ridgeway, no team score
Top 10 individual scores
1. Kaelen Gunderson, Steamboat Springs, 71
2. Ethan Grider, Fruita, 72
3. Cameron Brown, Battle Mountain, 75
4. Brian Grubbs, Cortez, 76
5. Jesse Beetham, Aspen, 77
5. Michael Wilhelm, Battle Mountain, 77
5. Mark Dockstader, Moffat County, 77
5. Drew Trujillo, Montrose, 77
5. Kevin Materson, Montrose, 77
10. Mary Knous, Basalt, 78
Steamboat Springs — Steamboat Springs High School senior golfer Kaelen Gunderson sounded down after Wednesday's Steamboat Springs Invitational at Haymaker Golf Course.
It wasn't that Gunderson shot badly. The exact opposite, actually.
Gunderson's 1-under-par 71 was good enough to win the tournament that featured 86 varsity golfers from 22 Colorado high schools.
But Gunderson is a perfectionist, and he thought his 71 could have - or should have - been a 66.
"I was disappointed in parts of it," said Gunderson, who carded five birdies and four bogies on Wednesday. "It's just that I had a little higher expectations. It's my course, and I was hoping to go a little lower. I had some missed opportunities."
Nonetheless, his round coupled with the efforts of teammates Scott Ptach and Alan Capistron was good enough to give Steamboat a tie for second place with a team score of 234.
Battle Mountain and Montrose also scored 234, but Battle Mountain's Cameron Brown birdied a playoff hole to give the Huskies the win.
For the Sailors, Ptach shot 84, Capistron shot 81, Skyler Martin shot 82 and Ty Hvambsal had to withdraw because of injury.
"I think we're all a little disappointed," Steamboat coach Steve Dodson said. "I was pleased we tied in first. They had off days, and we had an off day. But I felt we were ready to play."
Gunderson certainly came out ready to play. He birdied No. 1 and had pars on the next two holes before hitting a rough patch. Thanks to a three-putt on No. 4, a bad pitch on No. 5, and a penalty stroke on No. 6, Gunderson was 2-over-par through six holes.
But he bounced back with birdies on numbers 9 and 11. He missed a five-footer on No. 12 for birdie and bogeyed No. 14 before finishing with birdies on 16 and 18.
But when he looks back on his round, he certainly felt there were strokes to be had. The five-footer on 12, the par on No. 13 - a hole he called one of the easiest to birdie - and his bogey No. 14 all could have been different.
Add in his two near eagles on numbers 9 and 18, and Gunderson said his round could have been much lower.
"I'm feeling good though," Gunderson said. "My game is better than it's ever been right now. I just need to hopefully make some putts. For regionals I hope I play some of these holes smarter."
Ptach and Capistron each had rough days. Ptach, who typically shoots in the low to mid-70s, couldn't get it going on the front nine. He had a triple-bogey on No. 8, and double bogeys on Nos. 9 and 18. Capistron, another consistent 70s player, had a birdie on No. 17 to go with eight bogeys.
"It was just a rough day," Ptach said. "You have to get one of those out of the way. It's one of those things where it wasn't clicking."
The Sailors don't have much time to think about their rounds, as they head to Moffat County today.
With the regional tournament Sept. 22 at Haymaker, Dodson said he expects the team will round into form in the next two weeks.
He said come that day, he expects Battle Mountain, Cortez, Montrose and Steamboat again to battle for the one guaranteed team position to state.
"I still like our chances being on our home course," he said. "I still like where we are with our games. The guys are practicing hard. Getting this one out of the way - it might be a good thing."