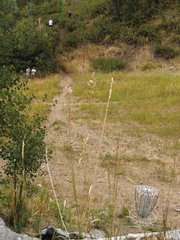 Steamboat Springs — Whether it truly was a first-of-its-kind performance is still undetermined. But it certainly stole the show last weekend during a disc golf tournament on the Thunderhead Disc Golf Course at Steamboat Ski Area.
Many disc golf players have hit holes-in-one, and some have hit two per round.
"I hit two in one round 10 years ago," local disc golfer Ron Pannesi said Wednesday.
But back-to-back aces in a tournament?
"The research is still ongoing to see if it's ever happened," said Pannesi, the winner and director of the second annual Steamboat Open. "But still, it's safe to say it was amazing and unprecedented."
The two-hole highlight reel was courtesy of Erie disc golfer Mitch Sonderfan.
Pannesi said the three-round tournament was an "absolute huge" success, drawing more participants and top competition than the inaugural event in 2008.
Pannesi, however, might be a bit biased when asked about what kind of weekend it was.
Although Sonderfan shocked the crowd with his course-record 13-under par and back-to-back aces in the second round, Pannesi dominated the course that he designed en route to capturing the Men's Open championship.
"It was awesome because even after he put on that onslaught, I still came back and beat him overall and won first place," Pannesi said.
Pannesi shot the lowest score of the first round, finishing three shots better than anyone else. He slipped one shot behind Sonderfan after the course-record round, then surged back to take the lead in the third and final round, finishing 22-under par and up by one shot.
"He missed a couple putts and wasn't playing as hot, and I was just ripping it up. I was up by five," Pannesi said. "Then I four-putted the second-to-last hole. It was a knee-knocker at the end for sure."
Pannesi wasn't the only local to find success in the 64-player field. Despite facing a talented field of players from across the state, Steamboat players won in six of the seven divisions.
Jason Ruemelin won the advanced men's division by two shots. Drea Schoenberger won the advanced women's division by six shots, defending her 2008 title.
Scott Howland captured his second consecutive advanced masters title by a comfy 10 shots. Todd Campbell won the intermediate class by four, and Benjamin Warren took a one-shot victory in the recreational division.