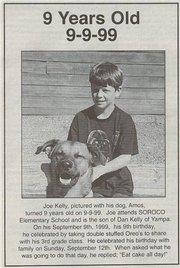 Steamboat Springs — From one "golden birthday" to the next, some things haven't changed in Joe Kelly's life.
On 9-9-1999, Kelly turned 9 and was featured in the South Routt NOW weekly newspaper with his dog, Amos. Amos is still by his side today as Kelly turns 19 on 9-9-2009.
In that article and photo by Geri Bruggink, who ran the newspaper out of an office in Oak Creek, Kelly said he planned on celebrating his birthday by taking double-stuff Oreo cookies to share with his third-grade class.
Bruggink asked him how he was going to spend his birthday with his family, and Kelly said he was going to "Eat cake all day!"
Bruggink, contacted Tuesday, said she still remembers the interview.
"When you're 9, cake is probably everything," she said. The photo was taken outside of Bonfiglio Drug & Liquor, next to the newspaper office.
Kelly said the newspaper article earned him some local notoriety and questions from classmates.
He graduated from Soroco High School in May and began working at Lakota Stucco. This winter, Kelly will work as a snowboard instructor at Steamboat Ski Area.
Kelly's mother, Rhonda Winograsky, said Kelly's great-grandmother was a Werner, and Buddy Werner was her nephew. He's also a fourth-generation descendent of the Cullen family. The sharply curving Cullens Corner on Routt County Road 129 was named for the family.
This year, Kelly said he will celebrate his birthday by working all day, followed by dinner and a movie with a girl. And maybe some cake.