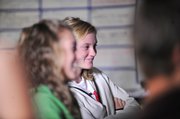 Private schools include speech
To decide whether to allow Lowell Whiteman Primary School students to watch President Barack Obama's address to the nation's schoolchildren Tuesday, Nancy Spillane, leader of the school, decided to do her homework.
After reading a transcript of the speech and determining it was consistent with the school's message, Spillane e-mailed parents before school Tuesday to let them know the students would be watching it in their classes. In her e-mail, Spillane also included links to previous speeches to the nation's schoolchildren delivered by Presidents Ronald Reagan and George H.W. Bush.
Students did not watch the president's address live at The Lowell Whiteman School, said Walt Daub, leader of the school. Instead, students will view it Sept. 20 during a prearranged all-school meeting, he said. After it's aired, Daub said students will be separated into groups with a teacher to discuss educational - not political - issues about an "essential question" that hasn't been determined.
"We don't want the kids to sit passively," he said. "We want them to process it and think about what it means to their education."
Daub said the viewing would have happened this Friday, but students at the private high school are leaving for scheduled outdoor trips.
At Christian Heritage School, administrator Dave Entwistle said Obama's speech was not aired live in any classroom because the school doesn't have cable TV. He said a high school history class read the text version and discussed it, and a second-grade class attempted to watch the address but had trouble with the streaming video on the Internet. Entwistle said that class might try again today.
- Jack Weinstein
Steamboat Springs — Steamboat Springs High School officials changed course Tuesday morning and aired President Barack Obama's speech about education live in each classroom. The decision was in contrast to the school district's initial plan of having students who were interested in hearing the presidential address go to the school's media center.
Instead, students who didn't want to see Obama's speech were allowed to go to the media center until it was done. Only about 25 students were in the media center when the speech began Tuesday.
Principal Kevin Taulman said he received numerous e-mails from parents who were concerned the speech wouldn't be shown at all. That response, as well as seeing the transcript of the speech in advance and getting feedback from school teachers and staff, led Taulman to alter the school's initial plans.
"The speech was worth taking time out of class," he said. "It allowed students to see a speech specifically aimed at them from the president of the United States. That doesn't happen every day."
Taulman also said there's a greater significance to having the school's student body and faculty gather together as part of a larger assembly.
"I still remember in fourth grade sitting down in class to watch whenever a space shuttle would take off. I feel like this gathering is important. As a nation, we have gotten away from that, and it's sad," he said.
When Obama's speech concluded, some high school classes engaged in discussions about why it was given and why it was so controversial. Individual students also provided their perspectives on the effectiveness of the speech.
Those students who chose not to listen cited one of two reasons for doing so: they didn't think the speech was important, or they wanted to use that time to get other work done.
"It really doesn't have that much educational value," student Sean Seams said. "If it focused on what we were learning in class, then maybe I would watch it."
None of the students in the school's media center cited a dislike of Obama or his policies as the reason for leaving their classrooms during the live address.
Kelsey Butler is a senior at Steamboat Springs High School and an intern for the Steamboat Pilot & Today.