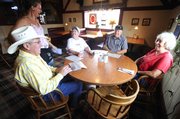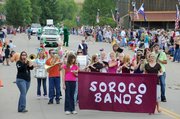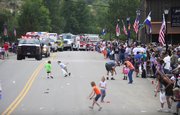 Awards
2009 Oak Creek Coal Queen and Coal Princess awards
Coal Queen
Winner: Annie Hagg
Runner-up: Dakota Wisecup
Coal Princess
Winner: Megan Kelliher
Runner-up: Annie Carl
Steamboat Springs — Oak Creek produced wall-to-wall Labor Day weekend activities, but opinions were mixed around town as to whether the festivities drew enough people to bring a boost to the town's economy.
Development of this year's Labor Day weekend programming included a concerted effort to make the festivities more family friendly and "leave the drinking to the bars," Labor Day Committee Vice President Sandy Wisecup said. Traditional events such as the Kiddie Fun Fair on Saturday, a fishing derby on Sunday and Monday's Labor Day parade were back, but the beer garden at Decker Park was discontinued in favor of more games and activities for kids. Wisecup said she thought the weekend turned out better this year.
"We tried to get it back more family-oriented," she said. "It's been really good. We've had a lot of positive feedback. : We really appreciate all of the community coming out to support us."
Tracy Burris agreed, but he hopes for an even better showing next year.
"We're really impressed with the turnout," he said. "It was a little more relaxed, but I think plans are going to be bigger and better for next year."
Burris announced the parade, which included mainstays such as classic cars, fire trucks, residents in period outfits and kids scampering up and down Main Street for candy. Bill and Virginia Paxton, of Spiro's Tradin' Post, served as the parade's grand marshals.
There was less activity inside Main Street's businesses, where opinions were mixed about the success of the weekend.
"This is the quietest I've been on Labor Day in eight years," said Jane Sindell, owner of The Mugshot coffee shop and bakery.
The Oak Restaurant owner John Grout said his restaurant has been open only three months and that he didn't have any previous Labor Day weekends to compare to, but it appeared the weekend brought more people in from out of town.
"It wasn't quite as busy, but it was a good Labor Day," The Colorado Bar & Grill owner Becky Elliott said. "I think everybody had a good time."
Oak Creek's Labor Day weekend festivities included barbecue, art, several tours, music, a horseshoes tournament and more. Bonfiglio Drug owner David Bonfiglio said it was important to offer a full range of activities to draw people to town who might stay or come back.
"I do think it's important we remind people we're here," he said.
- To reach Brandon Gee, call 367-7507 or e-mail bgee@steamboatpilot.com