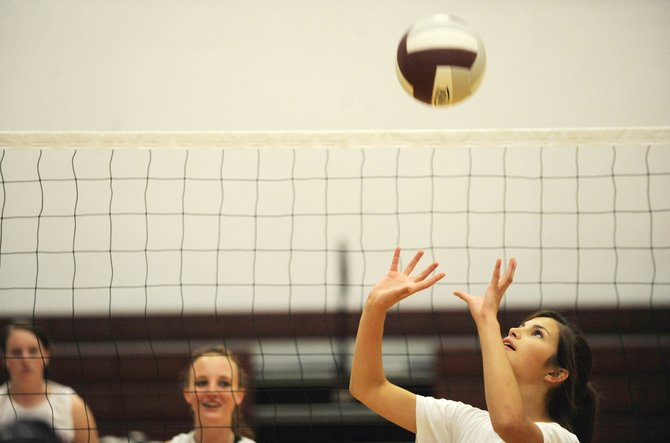 Soroco volleyball prepares for big season
Sunday, September 6, 2009
Schedule
2009 Soroco High School volleyball
- 9 a.m. today at Grand Valley Tournament
- 6:30 p.m. Thursday at West Grand
- 3 p.m. Saturday at Paonia
- 6:30 p.m. Sept. 17 vs. North Park
- 5 p.m. Sept 18 vs. DeBeque
- 6:30 p.m. Sept. 25 vs. Vail Christian
- 3 p.m. Sept. 26 at Meeker
- 6 p.m. Oct. 2 at Plateau Valley
- 3 p.m. Oct. 3 vs. Rangely
- 5 p.m. Oct. 9 vs. West Grand
- 3 p.m. Oct. 10 vs. Vail Mountain
- 6:30 p.m. Oct. 13 vs. Hayden
- 6 p.m. Oct. 20 at North Park
- 6 p.m. Oct. 23 at Vail Christian
- 3 p.m. Oct. 24 at Hayden
- TBA, Oct. 27 pigtail game
- TBA, Oct. 30 to 31 district tournament at Meeker
Steamboat Springs — Depth and a newfound commitment highlight the opening of the Soroco High School girls volleyball season.
Third-year coach Kim Reeves said although the team lacks a lot of upperclassmen, players have been as dedicated to volleyball as any others she's coached.
In addition to having open-gym time twice a week during the summer, the team also finished 17th out of 52 teams at a volleyball camp at the University of Northern Colorado.
"Before, it was like, volleyball was fun," Reeves said. "This group isn't like that. They want to win. I hope that changes the mentality of the whole volleyball game. We have more in-depth offenses and defenses. We can try new things. One of our strengths is they're very coachable."
After two seasons of playing in the pigtail match to just get into the district tournament, Reeves said expectations are much higher. With the more dedicated offseason, Reeves said the team is much further along than in previous years.
Instead of spending the opening weeks of practice focusing on the basics as in years past, Reeves said this season the team was able to focus more on offensive and defensive sets.
"Our team goal is to finish at the top half of the league because we haven't been there in a while," senior Julia Luciano said. "We've sped up our offense a lot. I think that will help us a lot."
During Saturday's opening tournament at Grand Valley, Reeves saw what her team could be. Soroco beat Telluride in three games before losing to Paonia and Vail Christian. With the early season tournament out of the way, Reeves said she has a better idea about just what type of team the Rams can be.
"It raised my expectations," Reeves said about the tournament. "There were times we could have played harder and more intense. We are going into the next week pushing them hard to pick up the intensity."
Although the program has just three seniors, the youths in the program really have started to change the mentality. The goals are changing, and many think the Rams could finish in the top half of the league.
"The goal is for us to stay intense throughout the season and stay close as a team," junior Caitlyn Berry said. "Hopefully we can make it to districts."
Although the team has played in the pigtail game the past two seasons, Reeves said she thinks the Rams can finish at least .500 this season and make it to the district tournament without having to play in the pigtail game.
"I expect that they're going to win a lot more matches than we've won in the past," she said. "This is a tough group of girls. They're willing to work hard. They're willing to do what I say. They're a very coachable team."