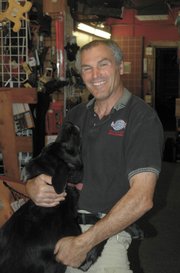 John Kole
Age: 56
Occupation: Boot-fitter, One Stop Ski Shop
Place of birth: Patterson, N.J.
Q. When did you move to Routt County, and what brought you here?
A. November '82, for a chance to work with Billy Kidd.
Q. Describe your morning routine.
A. Wake with Ted and Belle, coffee and talk with my sweet wife, go to work, play
Q. Has a book ever changed your life? What was it and why?
A. The Bible. It taught me how to serve and understand God better.
Q. What's the best piece of advice you've ever been given?
A. Love your wife with your whole heart.
Q. What three things would you want people to know about you?
A. I love everybody; I love to ski; I love my wife; I love God.
Q. What did you want to be when you grew up?
A. Pro linebacker in the NFL.
Q. If you could invite any four people to dinner, who would they be and what would you talk about?
A. Jesus/God, Mom, Dad and my wife, Deb. How things have worked out and what the future may bring.
Q. Do you collect anything?
A. Ski boots/old skis.
Q. In the Meatloaf song, "I'd do anything for love, but I won't do that," what is that?
A. Be the bookkeeper.
Q. Who is your favorite superhero? Why?
A. Jesus, because he saved the world.
Q. Do you have any phobias?
A. Touching food with dirty hands.
Q. If you could go back in time, to what event or time period would you go?
A. The day I opened my first ski shop in 1982, in a closet at Subalpine Lodge.
Favorites
Book: The Bible
Song: "Can I Get a Witness"
Color: Purple
Food: Fish, seafood
Sport to watch: Football
Vacation spot: Anywhere Deb wants to go