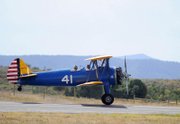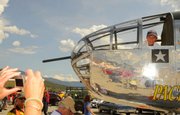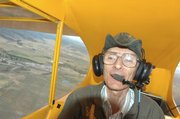 If you go
What: Wild West Air Fest
When: 9 a.m. to 3 p.m. today
Where: Steamboat Springs Airport, Routt County Road 129 north of Steamboat
Cost: $5 for adults, $3 for children ages 6 to 12; cost buys a button that allows access all weekend; kids 5 and younger get in free
Steamboat Springs — Three people stood outside a dandelion-yellow J-3 Piper Cub on Saturday afternoon, two talking and one listening.
Jen Alexander got the safety rundown from Carol and Charlie Huff before boarding the two-seater World War II plane. They showed her the bars to grab so she could pull herself aboard into the front seat before pilot Charlie Huff settled into the back.
"Why would I want to use the rudders?" Alexander asked as the Huffs pointed out parts. "You're flying."
"If you want to fly, I'll let you fly," Charlie Huff told her.
Alexander hit the skies in the Cub during the fifth annual Wild West Air Fest at Steamboat Springs Airport off Routt County Road 129. The Steamboat Springs Chamber Resort Association sold more than 1,600 buttons for entry, the most ever, master of ceremonies Mike Forney said.
Airport Manager Mel Baker suggested that as many as 2,500 people attended. Children younger than 6 are admitted free, and volunteers and pilots added to the crowd. People set up chairs in the shade of plane wings, seeking respite from the baking-hot concrete.
Huff's Piper Cub, which weighs 800 pounds empty, didn't provide much shade. But people lined up to ride it at $50 a pop. Alexander was riding partly because her husband, Steve, planned to head up in a biplane later in the afternoon.
He held her handbag as she overcame her hesitation and boarded the plane. Steve Alexander said he flies recreationally and that Jen joins him. The couple lives in Parker outside Denver.
"She puts her life in my hands, and I said, 'You're much better off with this guy. He's got a lot more experience than me,'" Steve Alexander said.
Jen Alexander made it safely back to the ground and said the flight was "awesome." She'd been concerned that the plane was small and she'd be claustrophobic.
She wasn't.
"Taking off was great, lifting off from the runway was great, just that
sense of freedom, no fear," Alexander said.
While she was in the air, Huff told her about his eight children and his desire to keep flying to age 100.
Huff is a member of the Commemorative Air Force, a group that sponsors WWII planes to keep them in the air. He flew commercially for 38 years and started flying the Cub about seven years ago. The Army used the plane largely for training and as an artillery spotter during war.
Huff, a lean fellow in a green flight suit, told the story of a Korean War veteran who remembered serving in a Cub. The vet went up with Huff.
"The last time he'd been in the airplane was when he was sitting on a parachute as an artillery spotter," Huff said.
The Cubs flew slowly, only about 60 miles per hour, and low to the ground. The occupants weren't high enough to make much use of a parachute if the plane did get shot down.
"They sat on a parachute so if someone did take a pot shot up through the airplane, hopefully it wouldn't get 'em in the tail," Huff said, laughing as he called the parachutes "pre-Kevlar tail cover."
Huff took several passengers up Saturday and will continue today. Other WWII planes, a helicopter and modern planes also offer rides at the Air Fest for a fee. The costs range from $50 a person for the Piper and the chopper to more than $300 for larger vintage planes. Fees go toward maintaining the planes.
The festival also includes vintage cars, a talk by Maj. Gen. Patrick Halloran, children's activities and radio-controlled aircraft.
As the first day of the event came to a close, Carol and Charlie Huff moved the Piper Cub into position for one last ride.
"Switches on?" Charlie asked.
"Switches on," his wife replied.
"Contact?" he asked.
"Contact," she replied.
Carol stepped away as Charlie spun the propeller and boarded. He taxied to the runway, watching for other planes, and took off over the Yampa Valley. An easy spin through the heat of the afternoon ended all too quickly.
Huff piloted back, landing the Cub with a few soft skips.
"Oh," he said happily, "that was a nice one."