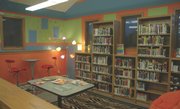 Hayden Public Library's new teen corner is the product of the sweating and fretting of the people it's meant to attract.
Lysa Valora and Elaine Cromie led efforts to design and create the area tailored to teenagers. Along with library lover Susan Magaw, the teens tore down shelving, created a paint scheme and planned furniture.
The result is a vibrant paint job in blue, orange, green and silver; a tiger-striped rug; colorful but soft lighting; and an array of teen-focused magazines, books and games. Valora and Magaw cut the ribbon at the teen corner Thursday evening.
"We spit-balled for like two weeks," Valora said, referring to the brainstorming process, "and came up with this."
The teen area was unpleasant before the renovation, she said.
"It was horrid back here."
Valora and Cromie worked at the library for the summer. Valora will be a junior at Hayden High School, and Cromie has started her freshman year at the University of Colorado at Boulder. Library Director Ana Lash assigned the project to the pair. Magaw, whom Lash laughingly called a "library groupie," helped engineer the project.
The library paid for the $4,600 renovation with funds donated by the Babson-Carpenter Foundation. The foundation donates money to the library each year, and the library saves it, Lash said.
"We had talked about doing the project for a long time," she said. "The library board decided this would be a great way to spend the money."
The decorations include circles containing faint tiger stripes in light and dark orange. The windows are framed in orange, and several blue rectangles adorn one wall. Those will include artwork by youths, Lash said. The library is running a contest to name the teen corner. Youths can submit names, logos or both. The winner's artwork will go on display in those blue boxes.
The teens debated colors endlessly, Valora said. Magaw helped them run through swatches.
"We went through like 40 different color schemes," Valora said.
Lash handed a gift to Magaw at the ribbon-cutting ceremony Thursday.
"She worked tirelessly to do this," Lash said.
"I didn't think it was tireless," Magaw returned with a grin. "I took lots of breaks."
The women spent weeks painting and putting the bright corner together. Valora said she was pleased with how the corner turned out.
"When it got done, I sat back here for a whole day just looking at it," she said. "I couldn't believe it was done."
Michelle Hoza, president of the West Routt Library District Board, said she was impressed.
"The other day they had the back lights off and just the lamps on, and I thought, 'I want to go back there and read,'" Hoza said. "It's very inviting."