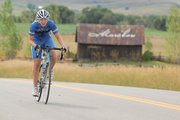 Road closures
- Today, 8 a.m. to 5 p.m. - Routt County Road 42 at Marabou Ranch will be one lane, and drivers should seek an alternate route or expect delays.
- Sunday, 8 a.m. to 4 p.m. - Racers will start from C.R. 33A and head away from town on C.R. 33 and C.R. 27. No roads will be closed, but drivers should expect delays and cyclists on the roads.
- Monday, 7:30 a.m. to 4 p.m. - There will be a one-mile criterium with closures of Oak Street, Pine Street, Eighth Street and Fourth Street. Residents who live inside the course should use the alleyway to cross over the racecourse. There will be course marshals at every intersection to assist motorists while the race is in progress.
Steamboat Springs — The first day of the inaugural Steamboat Springs Stage Race was filled with fast times, scenic beauty and a touch of nostalgia.
"It must have been close to 20 years ago since I've been in a race like this in Steamboat Springs," local cyclist Jim Barker said. "I think we held the last stage race around 1989, but I can't really remember."
Barker showed up in a light blue Steamboat Velo Club race jersey from those races and wore it proudly though the opening time trial. He finished the 4.5-mile road course at Marabou in just more than 12 minutes. The time wasn't good enough to lead the pack in his 45-plus age division, but it was more than enough to put a smile on his face.
"I'm just glad it's here in Steamboat. I don't go anywhere to race," Barker said. "I'm just hoping this is something that sticks. This is a great thing.
"It's a healthy sport and brings in the right crowd as far as demographics go for Steamboat. We had absolutely incredible racing conditions, and hopefully this is something people will enjoy and the kind of thing people look forward to on Labor Day weekend."
At a glance
- Today - Marabou Ranch Circuit Race
Riders, depending on division, will ride between 30 and 70 miles. The course is the same as Friday's, except riders will ride the opposite direction. Races begin at 8 a.m. and run through the day.
- Sunday - Moots Road Race
Top-level divisions begin at 8 a.m. and feature 70 miles on a T-shaped course with 3,800 vertical feet of climbing. The course goes to Yampa Valley Regional Airport and then to Oak Creek and back on Routt County Road 33. Other categories begin at noon and ride 55 miles to the end of C.R. 27 and back. Both races begin on C.R. 33A.
- Monday - Ski & Bike Kare Criterium
The loop starts at the Routt County Courthouse and goes on Oak, Pine, Fourth and Eighth streets. These roads will be closed to cars during that time. This criterium will be based on laps and also feature $750 in criterium primes. Criterium primes are prizes for winning specific intermediate laps. A bell will be rung to announce to the riders that whoever wins the next lap, wins the prize. The day begins at 8 a.m., with the top divisions starting last.
The nostalgia of the old races was appreciated, but most of the cyclists in Friday's prologue came to Steamboat to win.
Benjamin Day, of Boulder, set the time to beat after finishing the course in a time of 9 minutes, 46 seconds. He holds a 14-second lead against second-place finisher Jonathan Baker, also of Boulder, and a 21-second advantage against Greg Krause, of Littleton, in the men's pro division.
"I had not seen the course before the start, which was a little bit of a mistake," Day said. "I should have got here a bit earlier and checked it out. There were some tricky little descents. But it was a really fast course, really beautiful scenery, and I'm glad I made the trip up."
Steamboat's Barkley Robinson was the top Steamboat finisher in sixth place, 37 seconds back. Ian Prichard is just more than a minute back.
"I went hard out of the gate and up the climb for sure," Robinson said. "I was a little cooked at the end in the finishing stretch. But it was fun. This is a great venue, and the weather was perfect. It was awesome to have an opportunity to do a road race here."
Other notable finishes included Steamboat's Jeffrey Gay, who stepped into the spotlight by winning the junior division time trial.
Wade Newsom leads the men's category 3 division after finishing the time trial in 10:38. He holds an eight-second advantage past Mike Friedberg, of Boulder.
Other winners included Derek West, of Lafayette, who won the category 4 35-plus, 45-plus division; and Zane Godby, of Louisville, who holds a 17-second lead in the men's category 4 division. Steamboat's Josh Smullin is in second in that category.
Mitch Westall won the category 3 35-plus division, and Louie Amelburu, of Las Vegas, leads the men's 45-plus category. Mike Meyer leads the men's 55-plus, 65-plus division.
Susannah Gordon, of Parker, is the leader in the women's top division, which includes Category 1-2, Category 3, and women 35-plus. Englewood's Christine Snider finished the course in 13:15 to take the lead in the women's category 4, 55-plus, 65-plus division. Linnea Dixson, of Steamboat, is tied with Flora Duffy, of Boulder, for second. Both riders finished with a time of 13:20.
Racing will continue today with the Marabou Ranch Circuit Race. It will be the first official stage and is scheduled to begin at 8 a.m. at the Marabou Ranch subdivision.