September First Friday Artwalk listings
Friday, September 4, 2009
Photo Gallery
First Friday Artwalk September 2009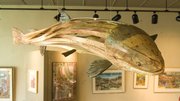 Galleries, restaurants, retailers and other art venues in downtown Steamboat Springs host receptions for local, regional, national and international artists from 5 to 8 p.m. today. Admission to all gallery openings is free.
Steamboat Springs — First Friday Artwalk receptions are from 5 to 8 p.m. today and are free and open to all ages, unless otherwise noted. Many events include refreshments and live entertainment. Images from some participating galleries and venues, and a Steamboat TV18 video about Artwalk, are at www.exploresteamboat.com.
- Abracadabra Gallery features locally inspired plein air paintings created in the past two weeks by local artist Zanobia. Call 871-8000. 1124 Yampa St., above Double Z BBQ & Bar.
- Artists' Gallery of Steamboat features handcrafted sculptures of aspen and beetle-kill pine by Matt Graves; shots of mustangs printed on large pieces of satiny fabric by photographer Judy Jones; and water-media works inspired by the Southwest by painter Joyce Lee Petersen. Call 879-4744. 1009 Lincoln Ave.
- Center for Visual Arts features Eric Dorris, a stone sculptor, and Jan Dorris, a contemporary painter. The gallery also displays work by more than 80 local artists in various media. The reception includes wine and snacks. Call 846-5970. 56 Ninth St.
- Colorado Group Realty features Leslie Bell, a fabric artist whose most recent work involves painting with oil pastel on silk. Call 870-8800. 509 Lincoln Ave.
- Comb Goddess salon features paintings by Susanmarie Oddo, a Steamboat schoolteacher whose "Kidspiration" collection depicts local children as boldly colored, playful animals. The reception includes candy. Call 871-0606. 11th Street and Lincoln Avenue.
- Creekside Cafe features local photography by Kevin Olsen, who focuses on landscapes in the Yampa Valley. The reception includes wine and appetizers. Call 879-4925. 131 11th St.
- Dovetail Designs features botanical paintings by Lance Whitner and works on paper by Christie Ginanni. The furniture makers of Dovetail Designs also showcase their work, which uses beetle-kill wood and other materials. The reception includes wine. Call 736-8244. 344 Oak St.
- East West Frame Shop features paintings of horses, Mount Werner and downtown Steamboat Springs by Michelle Ideus, and handcrafted jewelry by Julia Alisa Designs. Call 879-5225. In the alley by Eighth and Oak streets, next to Cantina's back door.
- Gallery 11 features new releases by photographer-owner Ken Lee. Call 870-8887. 908 Lincoln Ave.
- High Mountain Sotheby's International Realty features images of the Rocky Mountain West by photographer Dan Sweeney. Call 879-8101. 708 Lincoln Ave.
- Howelsen Place Gallery features David Marshall, a sculptor and designer whose work is featured in galleries across Europe. The reception includes wine and tapas. Call 846-0659. 703 Lincoln Ave.
- The Mac Ranch hosts a reprised grand opening celebration, featuring new work by photographer Fran Carlisle and prints by painter John Fawcett. Representatives from the Steamboat Springs Chamber Resort Association will be there at 4:45 p.m. to cut the ribbon on the store's new location; Organstein Jazz Trio plays from 5 to 7 p.m.; Marnos Custom Catering will have food on hand; and the reception includes beer, wine and sodas. Call 879-1270. 117 Eighth St.
- Off the Beaten Path features portrait paintings by Susan Schiesser. Call 879-6830. 68 Ninth St.
- Portfolio Collection will have owner-photographer Jim Steinberg signing copies of his latest book and winner of numerous awards, "Colorado Scenic Byways: Taking the Other Road." Cindy LaDue offers gifts and Western photography. The reception includes refreshments. Call 879-3718. 1016 Oak St.
- Shauna Lamansky Photographic Design presents new images; Lamansky specializes in portraits. Call 879-6213. 928 Lincoln Ave.
- Sleeping Giant Gallery features images from the Yampa Valley and a recent trip to Alaska by gallery owners Don Tudor and Cully Kistler, as well as Raku-fired stoneware by Brown Cannon. Cannon plans to donate proceeds from his First Friday sales to the Steamboat Springs Winter Sports Club. Call 879-7143. 601 Lincoln Ave.
- Steamboat Art Museum opens the last month of its two summer exhibits: "RARE: Imperiled Plants of Colorado" features botanical illustrations of plants found only in this state, and "The Wild Bunch" features depictions of Colorado wildflowers in various media. Call 870-1755. 807 Lincoln Ave.
- Steamboat Springs Arts Council features mixed media works and photography by Gerald Hardage at the Depot Art Center. Hardage, an award-winning photographer who frequently judges competitions, focuses on local images, with some scenes from around the world mixed in. Andy Pratt Jazz Trio plays at 7 p.m. Call 879-9008. 1001 13th St.
- The Spa/Salon features photography by Ali Reid, a Steamboat local who is studying photography in college. The reception includes drinks. Call 871-0202. 24 Fifth St.
- Urbane clothing and skate shop presents Pete "Graffiti Pete" Marino, a former Steamboat local working in Brooklyn, N.Y. Marino draws on the 1980s New York City graffiti scene in his work. The reception includes refreshments and live music by DJ Also Starring; the event is from 5 to 9 p.m. Call 879-9169. 703 Lincoln Ave., Suite B101.
- Wild Horse Gallery features fall colors by photographer Rod Hanna; hand-carved wooden birds by Don Van Horn; bronze sculpture by Hollis Williford; and new paintings by Shirley Stocks. Call 879-5515. 802 Lincoln Ave.