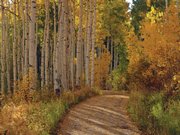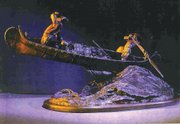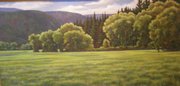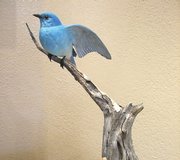 If you go
What: Opening reception for photography and mixed media by Gerald Hardage, part of First Friday Artwalk
When: 5 to 8 p.m. Friday
Where: The Depot Art Center,
1001 13th St.
Cost: Free
Call: 879-9008
Steamboat Springs — When photographer and mixed media artist Gerald Hardage gets an image in his head, he doesn't rest until that thought becomes a photograph.
An exhibit of Hardage's photographic prints, hand-painted scenes and digitally altered images opens with a reception from 5 to 8 p.m. Friday at the Depot Art Center. Hardage's approach to his art is visible in foxes captured by the camera and perfect strips of light across the valley.
"I was going to go to a photography class, and I kept waiting and waiting," Hardage said about the process of catching one stream of light falling on autumn-colored trees. "And I figured they can wait on me because I'm going to get that image."
Hardage's work - which in 2008 took home awards from the Professional Photographers of America, Florida Professional Photographers and Professional Photographers of Colorado - is presented by the Steamboat Springs Arts Council's Visual Arts Committee, and it will be on display at the Depot until the end of October. Andy Pratt Jazz Trio will provide live music from 7 p.m. Friday until the end of the reception, said Rachel Radetsky, events and facilities manager for the Arts Council.
In the Depot's front gallery, images from the Steamboat Springs Pro Rodeo Series, a ranch in Yampa, and local cattle drives join photographs and mixed media pieces from elsewhere in the West. In the baggage room, scenes from Italy hang across the room from sights from Routt County.
Several images in the Depot show started as photographs printed on archival paper or canvas. Hardage began painting over some of his photos to give the work a more artsy look about six years ago, he said.
"They're my answer to artists that paint," he said.
A civil engineer by training, Hardage owned a photography studio in the late 1970s and early '80s.
"I had a studio in 1979 for three years and determined I didn't like studio work, being nailed down to one spot," he said. Hardage renewed his interest in photography after retiring about 10 years ago. He and his wife, fellow artist Edie Hardage, moved to Steamboat about two years ago to be closer to family and escape Florida's heat and humidity, he said.
Hardage founded a monthly forum for local photographers in fall 2008, bringing an expert on a new topic to the Steamboat Springs Center for Visual Arts for a lecture and discussion on the third Monday of each month. Steamboat photographer Peter Arnold is scheduled to give a presentation about creating panoramic images in Adobe Photoshop at 6 p.m. Sept. 21 at the Center for Visual Arts. See examples of Arnold's work at www.peterarnoldphotography.com.
The monthly workshops are a chance for professional photographers to pass on the knowledge they've been given during the years, Hardage said.