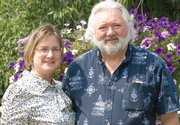 Morton Hoj and his staff kept detailed records at the Steamboat Yacht Club during the past decade.
Chef Hoj estimates his restaurant has served more than a half million meals since November 1999, and he worked tens of thousands of hours himself.
"We've been feeding 50,000 to 70,000 people a year," Hoj said. "During the last 10 years, I worked 30,000 hours and then some. I put in 70 to 80 hours a week."
Now it's time for Hoj, a couple of weeks away from his 57th birthday, to kick back for a little while. He'll take his wife and daughter to celebrate a traditional Christmas in Denmark for the first time since 1976.
The Hojs will phase down the Yacht Club this month, serving their last riverside luncheon on the deck Monday and continuing to serve dinners until Sept. 12.
They'll go out with a bang Sept. 13 when Hoj and staff will whip up the last of the food in the cooler into a free Sunday buffet. That's right - free food.
After that, the ship has sailed.
As much as he's looking forward to stepping out from behind the stove for the holidays, Hoj already knows he'll miss the profession he's pursued for 43 years.
"All the work and the reputation, all the friends, all the customers, they're all going to disappear," Hoj said.
So many meals
The veteran chef started as an apprentice in his hometown of Skanderborg, Denmark, in 1968.
He rose to prominence, cooking in Danish foreign embassies.
The Hojs purchased the Yacht Club from Dick and Paulette Mills - who purchased it from founder Alan Barbee - on Hoj's way out of his 13-year role as executive chef at the Steamboat Ski Area. Before that, Hoj cooked at Mattie Silks for five years, and before that, he had stints at The Lowell Whiteman School and Perry-Mansfield Performing Arts School and Camp.
Ideally, the Hojs would have picked up the option for a third five-year lease with the Mills and worked toward a sale of the business. However, before a new lease could be written, the owners of the real estate got an offer they couldn't refuse on the property at 811 Yampa St. It includes the restaurant, a large undeveloped lawn next door and the steel building that houses Backdoor Sports.
The new owners will develop the Whitewater Run mixed-use project and intend to spin off the restaurant to a third party. Realtor Jim Cook confirmed Tuesday that there is a buyer in place who will let the restaurant go dark for a time while undertaking a major remodeling to include a second floor seating deck overlooking the river. Cook represented the sellers and the buyers of the restaurant building.
"The buyers have very aggressive remodeling plans," he said.
Cook said he was not free to identify the buyers, who have yet to close on the purchase.
The remodeled restaurant "has the opportunity to be the crossroads, in terms of dining and entertainment, for the whole center of downtown," Cook said.
Hoj says his strongest emotions associated with the restaurant business involve his employees.
"I've heard every excuse there is for missing a shift," he said with a hearty laugh. "'I went to a concert in Denver last night and I'm stuck in Denver.' As much as we hate them, as much as we love them, we're sure going to miss them."
Hoj's wife, Ellen Hoj, who has stayed away from her husband's business for the most part, estimates the 25 employees who work at the restaurant today are among more than 700 who have passed through the waiter's aisle.
Janice Held, head bookkeeper and Morton's shrink, has decided she'll retire and spend more time skiing after seven years spent in the rabbit warren of offices above the dining room.
"She kept my suppliers at length, and I could always bounce things off her," Hoj said.
"I think Morton's ready to retire," Held said. "He's going to be sad when it closes, though."
What kept her so loyal?
"I could take vacation whenever I wanted," she said.
Hoj has special plans for his longtime customers. He's always served discounted meals in celebration of his birthday this month.
This time around, it's 43 percent off Sept. 10 to 12, followed by the Sept. 13 buffet that is free to everyone as long as there is food to be prepared.
When Hoj goes home that night, don't be surprised if he slips into his own kitchen and whips up dinner for his family - maybe a platter of breaded ground pork cutlets, Danish style.
"Cooking is easy," Hoj said.