Election 2009
Visit
www.steamboatpilot.com/election2009
for complete coverage of this year's races and issues.
Document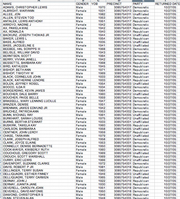 At a glance
- If you haven't received a ballot and think you should have - or have any questions about this year's election - visit the Routt County Elections Office in the Routt County Courthouse or call 970-870-5558.
- Electronic voting is available for disabled voters or any voter who chooses to vote electronically, at the Elections Office on the third floor of the Routt County Courthouse.
- There are five drop-off locations in Routt County for voters to submit their completed ballots: Routt County Clerk and Recorder's Office, Yampa Town Hall, Oak Creek Town Hall, Hayden Town Hall and the Clark Store.
- All ballots must be received by 7 p.m. Nov. 3. It is too late to return a ballot by mail, but voters can take them to any of the drop-off locations by 7 p.m. Nov. 3.
- Voters will receive ballots specific to where they live. For example, South Routt residents won't receive ballots because there are no contested school board races or city elections there.
By the numbers
Routt County registered voters by age group
Age Range, Voter Count, Percentage
18-24, 1,530, 9.3
25-34, 3,363, 20.4
35-44, 3,174, 19.3
45-54, 3,539, 21.5
55-64, 3,190, 19.4
65+, 1,671, 10.1
Totals, 16,467, 100
Voters in 2009 election by age group*
Age Range, Voter Count, Percentage
18-24, 62, 2.2
25-34, 159, 5.7
35-44, 371, 13.3
45-54, 661, 23.6
55-64, 911, 32.6
65+, 631, 22.6
Unknown, 2, 0.001
Totals, 2,797, 100
* Through Friday; ballots are being accepted until 7 p.m. Tuesday
Source: Colorado Secretary of State's Office, Routt County Clerk and Recorder's Office
Steamboat Springs — Residents younger than 45 account for just one-fifth of the ballots cast in Routt County's 2009 election, even though about half of the county's registered voters are in that age group.
The discrepancy has caused some to worry that the county's first election conducted exclusively with mail-in ballots may not be conducive to young voters. Others have been motivated to try to mobilize the youth vote.
"I'm personally very troubled," said Marion Ayer, of the Steamboat Springs Chamber Resort Association's Young Professionals Network. "The issues the (Steamboat Springs) City Council faces affect our young people the most. : If the younger generation people are not getting out and voting, they're not going to feel connected to the community."
Ayer said she intended to e-mail the network's members to encourage them to vote if they had not and said the group also might engage in a telephone call campaign. Ayer said issues frequently debated at City Council meetings - including affordable housing, child care, jobs and the amenities of the community - should be of particular interest to young people.
Those who haven't received a ballot and think they should have - or have any other questions - should visit the Routt County Elections Office in the Routt County Courthouse or call 970-870-5558. Completed ballots must be received by 7 p.m. Tuesday. It is too late to return ballots by mail, but they still can be dropped off at the elections office or one of the other four drop-off locations across the county. An electronic voting machine made available for disabled voters also may be used by anyone else who wants to through 7 p.m. Tuesday at the elections office.
About 8,000, or 49 percent, of Routt County's registered voters are younger than 45. Through Friday, Routt County had received and certified 2,797 ballots. Only 592, or 21.2 percent, came from voters younger than 45.
Chrissey Faessen, a spokeswoman for Washington, D.C.-based Rock the Vote, said Colorado's young voters used mail-in ballots just as much as other age groups and that young voters' share of the electorate grew in 2008 even as 60 percent of ballots were cast by mail. Rock the Vote is an advocacy group that works to engage young people in the political process.
"In fact, in some cases (a mail-ballot election) proves to be more convenient when (young voters) can't stand in long lines due to their work and school schedules," Faessen wrote in an e-mail. "That being said, the problem with mail and young voters is they are more likely to move and not re-register before these types of local elections so they never get a ballot."
Faessen said mail-in ballots should be combined with same-day registration, automatic registration, online registration and other "access strategies" to give young voters more options.
Steamboat Springs City Councilman Jon Quinn, who is not up for election, said although he initially didn't have any concerns about a mail-ballot election, he now shares Faessen's concerns about transient young people. Of the about 1,600 ballots that have been returned to the county as undeliverable, Quinn guessed a large majority belonged to young voters.
Quinn said he is particularly troubled by the lack of votes from younger residents because he thinks they represent the working class of the community.
"I think that a lot hinges on this election," Quinn said. "I think the future of the middle class in Steamboat is going to kind of be up for grabs. : This election is going to be really telling about the future of this group in Steamboat."
At 2,797, the number of votes cast so far also is low compared with previous odd-year elections. In the city of Steamboat Springs, 1,734 people have voted. More than 6,000 people voted in Routt County's 2007 election, including about 3,500 city residents.
In Steamboat, there are three contested City Council races and one contested School Board race.
In Hayden, there are two tax questions on the ballot and two contested School Board races. There are no elections in South Routt County this fall, which accounts for some of the decrease in the number of votes cast countywide.