Election 2009
Visit
www.steamboatpilot.com/election2009
for complete coverage of this year's races and issues.
Document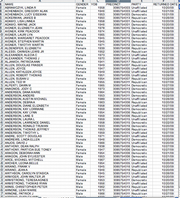 At a glance
- If you haven't received a ballot and think you should have, visit the Routt County Elections Office in the Routt County Courthouse or call 970-870-5558.
- There are five drop-off locations in Routt County for voters to submit their completed ballots: Routt County Clerk and Recorder's Office, Yampa Town Hall, Oak Creek Town Hall, Hayden Town Hall and the Clark Store.
- All ballots must be received by 7 p.m. Nov. 3. Voters should not mail their ballots after today, but they can take them to any of the drop-off locations by 7 p.m. Nov. 3.
- Voters will receive ballots specific to where they live. For example, South Routt residents won't receive ballots because there are no contested school board races or city elections there.
- Voters who have any questions about the mail-in ballot process should call the Elections Office at 870-5558.
- Electronic voting is available for disabled voters or any voter who chooses to vote electronically, at the Elections Office on the third floor of the Routt County Courthouse.
By the numbers
Routt County voter turnout in odd-year elections
2005: 6,850
2007: 6,124
2009: 2,109*
*Through Tuesday; ballots are being accepted until 7 p.m. Nov. 3
Source: Routt County Clerk and Recorder's Office
Undeliverable Routt County ballots don't just belong to transient and inactive voters. Some of the area's active, longtime residents - including one candidate for the Steamboat Springs City Council - also have experienced trouble getting their hands on a ballot with their name on it.
This year's election, for the first time in Routt County, is being conducted exclusively with mail ballots. The new process, combined with the usual confusion surrounding the lack of home mail delivery in Steamboat Springs, has caused some misunderstandings and concern in the community.
While many of the 1,644 ballots that have been returned to the county as undeliverable have been chalked up to out-of-date addresses, that doesn't explain what happened to ballots belonging to people like Pete and Barbie Wither. The couple's address hasn't changed in 40 years, Barbie Wither said Wednesday, but they still didn't receive ballots.
"It's very weird," she said. "They didn't give any reason, and we don't know why."
The couple went to county offices in person this week to request ballots, which they completed and turned in on the spot. Barbie Wither said she is worried some others might not go to the trouble.
"Probably if you didn't care, you wouldn't do anything," she said. "But we do care. We wanted to vote."
Steamboat attorney Reed Morris also didn't receive a ballot. Morris said he moved three years ago to a neighborhood served by cluster mailboxes. The next time he went to vote, he updated his address at the polls and has had it verified every year since. Having not received a ballot in the mail for this year's election, Morris checked his voter registration online and discovered that although his physical address had been updated, his old P.O. Box was still listed as his mailing address.
Morris said he visited the Elections Office at the Routt County Courthouse this week and got a ballot.
"I'm happy I'm going to be able to vote," Morris said, "but I'm frustrated a little bit that that's what it took."
Routt County Clerk and Recorder Kay Weinland said there are several reasons a ballot may be returned as undeliverable, including post office errors. In cases like Morris', Weinland said only physical addresses are verified at the polls and that voters must fill out a form and sign their name to update their mailing address. Ballots cannot be automatically forwarded to a new address for security reasons.
Regardless of individual circumstances, Weinland said the bottom line is that "if (voters) haven't gotten their ballot, they need to be calling us."
With 2,109 ballots completed, returned and certified through Tuesday, voter turnout stands at less than 16 percent. In the last odd-year election in 2007, more than 6,000 people voted in Routt County, and voter turnout was 57 percent.
The average age of voters who have returned ballots so far this year is 56.
In the city of Steamboat Springs, 1,236 voters had returned their ballots as of Tuesday. About 3,500 city residents voted in 2007. At 54, the average age of voters in the city so far this year is slightly younger than the county as a whole.
"My concern, especially as we embark on a new process, is we want to be sure that this process is conducive to all demographics of our community," said Kenny Reisman, a candidate for the District 2 seat on the Steamboat Springs City Council.
Reisman said he is concerned with the low turnout and the fact that there are more votes from older residents than younger ones. Reisman, 40, said he thinks his campaign message appeals to all age groups, but he also has specifically campaigned as a candidate focused on the interests of young families and businesspeople. Reisman's opponent, Ken Solomon, is 62.
"It's interesting and unfortunate that more people aren't involved," Solomon said Wednesday. "I think the process is somewhat confusing to people. : It'll be interesting to see what happens in the next day or two. The clock is ticking."
Solomon said he also did not receive a mail ballot. Like the Withers, his mailing address hasn't changed in about 40 years. When he went to county offices to pick up the ballot that had been returned as undeliverable, he discovered that his mailing address was inadvertently changed when he updated his physical address three years ago.
Solomon said he is dismayed with the number of ballots that have been returned to the county and with the fact that many voters he has spoken to say their ballots are at home sitting on the desk.
"It only takes a few seconds. There aren't that many choices," Solomon said. "Early voting in the past has shown people are capable of making a choice by this time."
Reisman said he has spoken with voters who have many misconceptions about this year's election process, from those who think their ballot will be counted as long as it is postmarked by 7 p.m. Tuesday, to those who think it is too late to request a ballot.
"The amount of misinformation out there is disheartening," Reisman said.
Voters who have not received a ballot should call the Routt County Elections Office at 870-5558. While it is too late to request that a ballot be mailed, voters can still receive one over the counter at the Elections Office. Completed ballots must be received, not postmarked, by 7 p.m. Tuesday. To ensure ballots arrive on time, they should not be sent through the mail after today, but can still be dropped off at the Routt County Elections Office on the third floor of the Routt County Courthouse or one of the other four drop-off locations throughout the county.
In Steamboat, there are three contested City Council races and one contested School Board race. In Hayden, there are two tax questions on the ballot and two contested School Board races. There are no elections in South Routt County this fall, which accounts for some of the decrease in the number of votes cast countywide thus far.
About equal numbers of men (1,066) and women (1,043) have returned ballots so far. In terms of party affiliation, the 2,109 ballots returned through Tuesday came from 777 Republicans, 705 Democrats, 615 unaffiliated voters, eight Libertarians and four members of the Green Party.