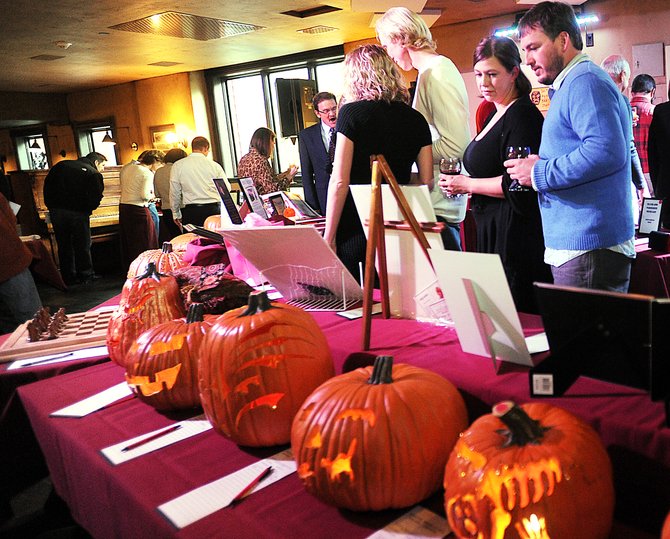 Auction raises money for local scholarships
Whiteman Primary expects need for financial aid to increase next year
How to help
Those who couldn't attend the auction but want to contribute to the scholarship fund can donate by going to the school's Web site, www.lwps.org, and clicking on "Support Our School." For more information, call Whiteman Primary at 879-8081.
Steamboat Springs — Nancy Spillane, director of Lowell Whiteman Primary School, said if early returns are any indication, the school's scholarship auction Sunday evening at the Ghost Ranch Saloon went a long way toward providing financial aid to its students next school year.
"We're keeping our fingers crossed and hoping for the best," she said.
The school got off to a good start in its fundraising. Spillane said more than 300 tickets were sold at $50 each for the Halloween-themed event, called "LWPS Goes Ghostly." Those sales are up from the school's annual average of about 250 tickets. And there were 145 items to bid on, from $30 gift certificates to $4,500 vacations.
Spillane said the annual scholarship auction - in its 17th year - was the first fundraising effort for the school's scholarship fund, which provides financial aid to children throughout Routt County to attend Whiteman Primary. She said last year's auction raised more than $57,000, but the school provided more than $101,000 in scholarships. Twenty-nine percent of students receive some aid.
Spillane said this year's auction was especially important because she anticipates the need for the school to provide even more financial aid next year. The school's annual tuition is $11,000.
The event attracted a number of parents, whose children attend the school.
Steve Millen, whose 5-year-old son, Keegan, attends Whiteman Primary, said his family benefits from financial aid provided by the school.
"It's a blessing," his wife, Shannon Maley, said about the scholarship auction. "Without it, we would not be able to have our son at Lowell Whiteman (Primary). It also creates diversity at Lowell Whiteman (Primary), which is important."
The event also attracted those who didn't have children at the school.
Steamboat resident Ray Martinez said he has supported Whiteman Primary since the mid-90s because he has friends who work there but also because he feels that the school fills a niche within the community.
Diane Lane, a Steamboat resident, also doesn't have a child at Whiteman Primary, but she has a friend who does. Lane said she hoped her support would allow others to attend the school.
"I think the benefits of the school should be available to everyone," she said. "An event like this highlights community service, which is a big part of what the kids learn."
Emily McMullan, who teaches at the school, said the auction served as a fundraiser for scholarships but was also a community event. She said everyone pitched in to help make a basket, donate an item for auction, help set up or work at the event. Even eighth-graders who attend Whiteman Primary lent a hand.
Eighth-grader Nissa Parker, who was serving food at the auction, said it was important for Whiteman Primary to raise money for scholarships, because like herself, they give anyone a chance to attend the school.
The auction also served as a food drive for LIFT-UP of Routt County, with every ticket encouraging people to bring a canned-food item. Whiteman Primary also would donate the proceeds from the highest-bid pumpkin. Local artists designed 11 that were auctioned off.
- To reach Jack Weinstein, call 871-4203 or e-mail jweinstein@steamboatpilot.com