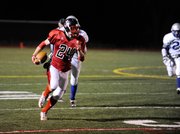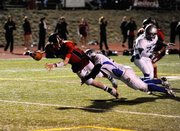 Hinder to be honored
Steamboat Springs High School quarterback Austin Hinder will be honored at 3 p.m. Wednesday at the Kelly Meek Gymnasium in Steamboat Springs High School. There, representatives from the U.S. Army All-American Bowl will present Hinder with a jersey and invitation to play in the Jan. 9 game at the Alamodome in San Antonio. The game features the top high school players in the nation and is broadcast live on NBC. Previous representatives in the game have included Reggie Bush, Vince Young, Adrian Peterson and Tim Tebow. Hinder will be joined in the game by Grandview linebacker and University of Notre Dame commit Chris Martin.
Game statistics
Moffat County Steamboat Springs
14, First Downs, 13
38-196, Rushes-Yards, 31-299
5-12-1, Comp-Att-Int, 13-22-0
67, Yards Passing, 129
263, Total Yards, 428
5-31, Punts-Avg., 1-23
2-0, Fumbles-lost, 3-1
6-55, Penalties-Yards, 12-90
SCORE BY QUARTERS
Moffat, 07-00-00-07-14
Steamboat, 00-28-00-14-42
SCORING SUMMARY
First Quarter
MC - 5:50, Pablo Salcido 44 pass from Matt Linsacum. (Halen Raymond kick.)
Second Quarter
SS - 9:50, Joe Dover 26 run. (Pete Schuette kick.)
SS - 5:16, Austin Hinder 8 run. (Pete Schuette kick.)
SS - 3:07, Dover 54 run. (Pete Schuette kick.)
SS - :43, Jack Spady 20 pass from Hinder. (Schuette kick.)
Third Quarter
None.
Fourth Quarter
SS - 6:57, Dover 22 run. (Schuette kick.)
SS - 2:45, Dover 48 run. (Schuette kick.)
MC - 1:20, Jasen Kettle 37 run. (Raymond kick.)
INDIVIDUAL STATISTICS
Rushing
MC: Linsacum 15-46; Salcido 12-73; Kettle 8-60, 1 TD; Wesley Chapman 2-17.
SS: Dover 13-187, 4 TD; Hinder 16-109, 1 TD; Connor Landusky 2-3.
Passing
M: Linsacum 5-11-1, 67 yards, 1 TD; Salcido 0-1-0.
SS: Hinder 13-22-0, 129 yards, 1 TD.
Receiving
M: Salcido 4-57, 1 TD; Brady Conner 1-10.
SS: Jack Spady 4-57, 1 TD; Dover 4-57; Jack Verploeg 2-2; Dylan Pivarnik 2-10; Bryce Mayo 1-3.
The difference between the 2008 and 2009 versions of the Steamboat Springs High School football team was on full display Friday against rival Moffat County.
The Sailors, who let early opponent scores do them in last season, waded through the first punch Friday and delivered a 42-14 blasting of the Bulldogs, earning their fifth straight playoff appearance in the process.
Moffat County scored with its first drive of the game, a 44-yard strike from quarterback Matt Linsacum to running back Pablo Salcido for a 7-0 lead.
Whereas early deficits against Palisade, Glenwood Springs and Pueblo County wilted Steamboat last year, Moffat's lead Friday seemed to simply wake up a dangerous, dangerous Sailors team.
Steamboat poured on 28 points in the second quarter behind two touchdown runs from Joe Dover, one from Austin Hinder and a beautiful catch from Jack Spady. Defensively, Steamboat allowed only three Moffat County first downs after the Bulldogs' initial drive.
"You just can't let it get you down," Steamboat senior Bryce Mayo said. "You've got a whole game to play. I wasn't worried. I had all the confidence in our 11 on defense, and we stepped up."
They certainly did.
After Moffat put together its 10-play, 62-yard drive to start the game, Steamboat's defense was too much.
The Sailors limited the Bulldogs to 16 plays the rest of the first half, including three 3-and-out drives.
And when the defense does its job, that means the potent Steamboat offense is on the field.
Steamboat put together scoring drives of seven, eight, two and five plays in the second quarter to take a 28-7 lead into halftime.
After the two teams traded long scoreless drives in the third quarter, Dover again took over.
The senior, who finished the game with 187 yards rushing on just 13 carries to go along with four touchdowns, scored on runs of 22 and 48 yards in the fourth quarter to put Steamboat up 42-7.
"I feel good. It's the best I've felt playing football since seventh grade," Dover said. "It makes it easy for me. I've got that extra gear, sure, but the line blocks and I get the perfect hole. So thank you to them."
Moffat's Jasen Kettle scored from 37 yards out in the final minute to put the score at the final 42-14.
Steamboat, at 8-0 overall and 6-0 in the Western Slope League, now will shoot for a league title. The team plays at 7 p.m. Friday against Buena Vista at home before concluding its season at Glenwood the next week, a game that could be for the league title.
But Steamboat coach Aaron Finch said on the heels of the team's best performance of the year, the focus is starting to turn to something bigger.
"To get that done in Week 8 is a good thing," Finch said. "It allows us to think through how we want to finish the regular season and set some short goals. Now we'll start talking about the golden football. We're there, now we got to figure out how to win it."