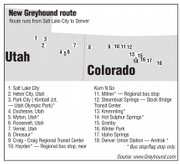 Ticket information
Tickets for the Greyhound bus service may be purchased at the Stock Bridge Transit Center before each departure. The temporary hours for the ticket office are 1:30 to 4 p.m. Greyhound is offering $1 one-way tickets until Oct. 26. Tickets also can be purchased at www.greyhound.com, but the promotional fare does not apply. Buses are scheduled to depart Steamboat Springs westbound at 3:40 p.m. and eastbound at 4 p.m. daily, beginning today.
Steamboat Springs — After an absence of more than five years, Greyhound buses again will roll along U.S. Highway 40 between Salt Lake City and Denver.
The daily service resumes today.
The all-new buses will travel along U.S. 40, stopping in Steamboat Springs, Milner, Hayden, Craig and a host of other cities during a daily commute with wireless Internet service, more leg room and buses designed for laptops.
The state of Utah and the Colorado Department of Transportation agreed to subsidize the cost of the route, which was stopped in 2004 because of low ridership.
The bus will stop and ticket agents will be present at the Stock Bridge Transit Center in Steamboat and the Craig Regional Transit Center under an agreement with Steamboat Springs Transit.
Transit Operations Manager Jonathan Flint said Greyhound will be required to maintain the two facilities under the agreement.
The bus also will stop at the regional bus stops in Milner and Hayden for shorter durations.
"Expanding this route was important to Greyhound and both states," Steamboat Springs Public Works Director Philo Shelton said.
Shelton said Colorado and Utah agreed to buy the buses for the route, and Colorado will provide $380,000 per year in operating expenses.
The service will be marketed for skier retreats during the winter.
Until Oct. 26, the bus line is offering promotional $1 one-way tickets to Denver or Salt Lake City.
After that, the tickets from Steamboat Springs to Denver will cost about $80 for the round-trip.
Each way will take an estimated four hours.
The discount rates may not be available online, but the promotional tickets and all others may be purchased at the Stock Bridge Transit Center. Greyhound contracted Steamboat resident Ed Mooney to act as the ticket agent in Steamboat. He said the ticket office will be open from about 1:30 to 4 p.m. each day in the coming week, with permanent hours announced after that.
The westbound bus will depart Steamboat at 3:40 p.m., and the eastbound bus will depart at 4 p.m., according to Greyhound.com. For more information, call Greyhound at 800-231-2222.
- To reach Zach Fridell, call 871-4208 or e-mail zfridell@steamboatpilot.com