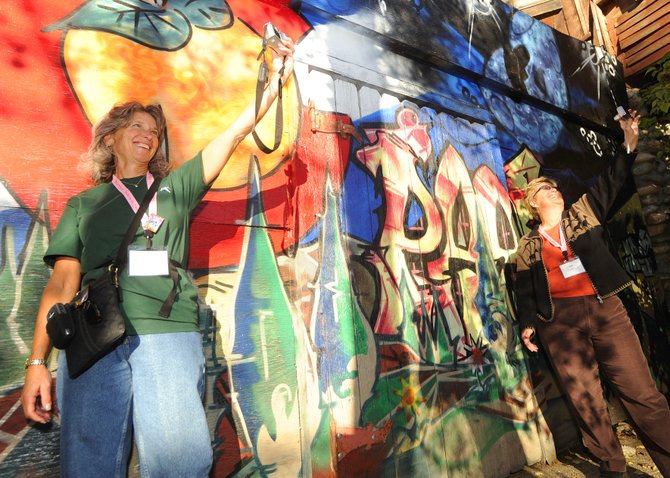 Sisters in Steamboat Weekend called a success
Weekend of workshops and outdoor activities continues today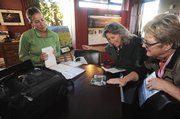 Events continue today
Sisters in Steamboat Weekend continues today with a yoga session from 8 to 9:30 a.m. at the Yoga Center of Steamboat; pre-registration is required. Off the Beaten Path Bookstore hosts a coffee tasting with food pairings from 10 to 11:30 a.m. today. Julie Spitzley, of Storm Mountain Coffee Roasters, will present signature brews. Admission is $10 per person or $15 for two tickets; pre-registration is encouraged. Call 879-6830.
For more information about Mainstreet Steamboat Springs, call Tracy Barnett at 846-1800 or go to www.mainstreetsteamboatsprings.com.
Acting on a recent lesson in photography, Kristal Eckley held her arm out to the side with a camera in her hand, kept talking and took a picture of herself.
It's not something Eckley would have thought to do before Saturday afternoon - taking a self-portrait that might not turn out well - and the results weren't particularly flattering. But Eckley had come to a workshop to get more comfortable with her digital camera, and she was willing to give workshop leader and local photographer Debbi Funston's tips a shot.
The workshop, which included Eckley and her friend Gail Hunter, was part of Mainstreet Steamboat Springs' inaugural Sisters in Steamboat Weekend. Activities included a wine reception; workshops on fitness, nutrition, self-empowerment and photography; and outdoor activities such as a hike on Howelsen Hill and a walk through historic downtown Steamboat Springs. A "Wild Women in the West" party with poker, country dancing, tarot card reading and costumes was planned for Saturday night.
Eckley and Hunter attended the weekend events with a friend from Illinois and said they plan to come back next year, hopefully with more visiting friends. Funston got involved with the event through friend and local author Jill Murphy Long, who gave a workshop Saturday morning called "Give Yourself Permission to Play," Funston said.
"I think enrichment-type workshops are exciting because
they give women a chance to support each other and maybe open doors and open people's minds as to what they can do and what they can accomplish," Funston said.
Eighty-five women registered for Sisters in Steamboat.
"Last Saturday, I was hoping for 50," said Tracy Barnett, event organizer and manager for Mainstreet Steamboat Springs. She hopes the turnout for next year's event - scheduled for the same weekend - will be larger.
"It's just going to grow. I can't tell you how many people told me, 'I couldn't get it arranged this year, but my sister and my friends all know about it for next year,'" Barnett said.
About 35 women came to Bud Werner Memorial Library at 11:30 a.m. Saturday for local nurse and counselor Diane McCrann's workshop, "Are You Living the Life You Imagined?"
McCrann encouraged workshop attendees to "live out loud," asking them to close their eyes and picture a color, and then think of a word, when she said "passion." The women participating also filled out a worksheet listing five things they want, five things they need and five things they desire.
Lori Joy, of Denver, and her two sisters, Julie Victor, of Longmont, and Wendy McGowan, of Colorado Springs, attended the workshop. Joy said she heard about Sisters in Steamboat Weekend on her local National Public Radio station and persuaded her sisters to attend.
"They're married, and I don't get to spend a lot of time one-on-one with them, so it sounded fun," Joy said. The three sisters met a trio of local women, also sisters, at a Friday wine reception at Harwigs and planned to go horseback riding with them Saturday afternoon, Joy said.
Barnett said some women went shopping - driving downtown retail was one of Barnett's stated goals for Sisters in Steamboat Weekend - and others had taken advantage of special offers at shops and spas. Event participants seemed to bond quickly, she said, mentioning that "some of them apparently danced up a storm at the Ghost Ranch to that Johnny Cash cover band" Friday night.
"It's happening just the way I thought it would. Women just love to get together," Barnett said.