Photo Gallery
State tennis, Thursday, Oct. 15, 2009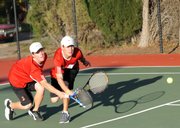 Results
No. 1 singles
1st Round: Aiden Reid, Lewis-Palmer, def. Jamey Swiggart, Steamboat, 6-2, 6-4.
No. 2 singles
1st Round: Keegan Burger, Steamboat, def. David Boddiger, Skyline, 6-1, 6-1.
Quarterfinals: Steven Moore, Cheyenne Mountain, def. Burger, 2-6, 6-4, 6-2.
No. 3 singles
1st Round: Derek Clark, Longmont, def. Mirko Erspamer, Steamboat, 6-2, 2-6, 6-1.
No. 1 doubles
1st Round: Jack Burger and Jeff Lambart, Steamboat, def. Tyler Goutermout and Daniel Conroy, Mullen, 6-1, 6-2.
Quarterfinals: Connor Ohlsen and Ben Teebken, Longmont, def. Burger and Lambart, 2-6, 7-6(2), 6-2.
No. 2 doubles
1st Round: Max Roder and Vladan Chase, Steamboat, def. Jack Becker and Chris Safran, Rock Canyon, 6-4, 6-2.
Quarterfinals: Hank Esser and Keaton Patterson, Colorado Academy, def. Roder and Chase, 6-4, 6-3.
No. 3 doubles
1st Round: Luke Farny and Callum Richman, Steamboat, def. Sam Smith and Corbin Jones, Lewis-Palmer, 6-3, 6-0.
Quarterfinals: Nick Merrill and Kamiar Coffey, Kent Denver, def. Farny and Richman, 6-7(7), 6-3, 6-1.
No. 4 doubles
1st Round: Gabri Erspamer and Kyle Rogers, Steamboat, def. Evan Baldwin and Ryne Carlson, Greeley West, 6-2, 6-7, 6-2.
Quarterfinals: Erspamer and Rogers def. Jono Bentley and Ian Peterson, 6-4, 6-2.
Pueblo — Odd, the world of high school tennis.
Consider: Thursday afternoon, a few competitors from Class 4A schools crushed the dreams of the Steamboat Springs High School tennis team, sending six of the squad's seven entries out of the championship bracket of the state tennis tournament in Pueblo.
Now today, those same Sailors have no choice but to cheer on the very teams that came together to ruin any chance at a high team finish at this year's state tournament.
Steamboat qualified only one entry for today's state semifinals at the Pueblo City Park. The No. 4 doubles team of freshman Gabri Erspamer and sophomore Kyle Rogers rallied to beat a team from Colorado Academy, 6-4, 6-2, to advance and play today for a spot in the state finals.
The rest of the Steamboat team lost in the first two rounds and must hope the players who beat them advance to the finals, allowing a playback opportunity into the consolation bracket.
"We had a lot of momentum coming in and a lot of great, positive energy, and the other teams just stepped up and played well," Steamboat coach John Aragon said. "We missed some opportunities to close out matches, but overall, it wasn't our lack of play, but the other teams stepping it up."
Third sets destroyed Steamboat all afternoon, and Erspamer and Rogers said they avoided a similar fate by putting their quarterfinal match away in two.
The pair survived a three-set scare in the first round and got in trouble again early in their quarterfinal match. They dropped the first four games of the first set to Colorado Academy's Jono Bentley and Ian Peterson.
But everything changed as Steamboat began to build confidence and put away points.
"We stepped it up. We turned up the intensity," Erspamer said. "We started moving more, and we realized they weren't really hitting the ball hard and there wasn't much to be scared of."
The pair strung together six consecutive games to take the first set and then took the final four games of the second set to close out the match.
They will need to call on that same kind of determination today if they're to carry on to the state finals. The pair will face off against David Karpas and Alec Lee, of Kent Denver, a team that squashed Erspamer and Rogers, 6-1, 6-0, just two weeks ago.
Still smiling wide after their Thursday victories, the Steamboat team wasn't afraid.
"They're a good team, but I think we can definitely beat them this time," Rogers said. "We just have to play like we did today."
Nearly everywhere else, "close" continually proved simply frustrating.
No. 2 doubles player junior Keegan Burger rolled over his first-round opponent and looked in charge as he took the first set from highly regarded Cheyenne Mountain freshman Steven Moore, 6-3.
He couldn't answer Moore's strong serve for the rest of the match, losing the second set, 6-4, and the third, 6-2.
It was a similar story with Steamboat's No. 3 player, junior Mirko Erspamer. He lost his first-round set, 6-2, but rallied to take the second, 6-2. He quickly fell behind in the third and lost, 6-1.
No match was more crushing than that of Jack Burger and Jeff Lambart, Steamboat's No. 1 doubles team.
The pair skated through the first round and appeared on the verge of an easy quarterfinal win. Steamboat won the first, 6-2, and led, 5-2, in the second. It faced one set point and was twice within two points of the win, but couldn't ever finish.
Connor Ohlsen and Ben Teebken, of Longmont, took advantage and rallied, winning the second set in a tiebreaker and dominating the third, 6-2.
"It's very frustrating because we had the match," said Lambart, a senior. "Hopefully they will get us a playback, but realistically, it's probably over for us.
"That was probably the last match of my career, and that's a hard thing to think about."
Luke Farny and Callum Richman at No. 3 doubles also lost in the quarters in three sets. They took the first set via a tiebreaker but couldn't keep it going against a strong Kent Denver.
No. 1 singles player Jamey Swiggart, a sophomore, lost to Lewis-Palmer's Aiden Reid, 6-2, 6-4, in the first round, but he's hoping to earn a playback bid today.
The No. 2 doubles team of sophomore Max Roder and senior Vladan Chase, meanwhile, fell from the quarterfinals in two sets, 6-4, 6-3.
"I went to the tent after that and just thought about it," Chase said. "It sucks. This whole year, coach was telling us this was the year. 'You may not win state, but individually it could be a great year.'
"I thought it could happen, but this was just one of those days."