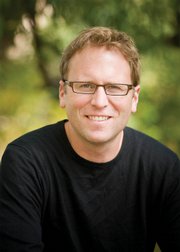 Upcoming events
>> "The Haunted Library"
reading - Bud Werner Memorial Library, 6 p.m.
Local author Blythe Terrell reads a section of her Halloween-spirited, adventure-minded book, "The Haunted Library." The event is in the children's story time room at the library, and includes cookies and cider. FREE. Call 879-0240.
>> Poetry slam skull session - Off the Beaten Path, 6 p.m.
Help Off the Beaten Path plan for its future poetry slam competitions. FREE. Call 879-6830. 68 Ninth St.
>> Steamboat Springs Writers' Group - Depot Art Center, noon
Local writers gather for weekly readings; visitors are welcome. FREE. Call 879-9008. 1001 13th St.
>> Book club trunk show - Off the Beaten Path Bookstore, 7 p.m.
Publishers will be on hand to give fall recommendations to local book club members, and the store will hold a raffle for some of the season's popular titles. The $10 admission includes two glasses of wine, raffle tickets and a book club purchase discount. Call 879-6830. 68 Ninth St.
>> Kate DiCamillo webcast - Off the Beaten Path Bookstore, 2 p.m.
The author of "Because of Winn-Dixie" gives a live online talk about her new novel, "The Magician's Elephant." Off the Beaten Path broadcasts the talk and will raffle a signed copy of the new book. FREE. Call 879-6830.
If you go
What: Author John Shors, giving a reading, lecture and book signing
When: 4 p.m. Saturday
Where: Bud Werner Memorial Library, Lincoln Avenue and 13th Street
Cost: Free
Call: 879-0240
Online: Learn more about author and Boulder resident John Shors and his most recent novel, "Dragon House," at dragonhousebook.com. Read a segment about his first book, the best-seller "Beneath a Marble Sky," at beneathamarblesky.com.
Steamboat Springs — About three years ago, the CBS Evening News did a segment about John Shors. The Boulder-based novelist had, in paperback editions of his first book, "Beneath a Marble Sky," made an offer to his readers.
Including his personal e-mail address, Shors wrote a note at the back of those editions inviting any book club with 10 or more members to set up a time to talk with the author about "Beneath a Marble Sky" on speakerphone.
The day after the segment went on air, Shors was a much more popular man.
"One night, the CBS Evening News did a feature on the book club program, and the next day I had something like 800 e-mails," Shors said in a phone interview Thursday. He's spoken to about 2,000 book clubs in the past three years and thinks the involvement has built a local readership, he said.
The novelist will read part of his third and most recent book, "Dragon House," at 4 p.m. Saturday at Bud Werner Memorial Library. He'll talk about the novel's subject and the writing process, answer questions and sign copies, he said. Epilogue Book Co. and the library are sponsoring the event.
"Dragon House" tells the story of two Americans who travel to Vietnam to establish a center for homeless children. The book's setting is based on Shors' own extensive travels through Vietnam and Asia, often including periods in the area's largest cities.
"During these experiences, I've spoken at length with homeless children, and I was so inspired by these children and their tenacity and entrepreneurship and optimism that I wanted to create a novel based upon my experiences with these children," he said.
Part of the sales proceeds from "Dragon House" will go to the Blue Dragon Children's Foundation - the organization has goals for education and support of homeless children in Vietnam similar to the ones expressed by the main characters in "Dragon House," Shors said.
Shors traveled in Asia in the early 1990s, finding inspiration for his work as a novelist and satisfying a historical interest.
"I was fascinated with Vietnam initially because of the connection with American history," he said. "And obviously there is a real American legacy in Vietnam. It's not necessarily a good legacy, but it's there, and as an American I was really interested in traveling to Vietnam and experiencing that."
After spending several years as a reporter for the Des Moines Business Record, Shors moved to Boulder in 1999 to help launch a public relations agency, GroundFloor Media. He left the job in 2006, when "Beneath a Marble Sky" took off and started hitting best-seller lists, he said. His second novel, "Beside a Burning Sea," came out in 2008.
Doors for Shors' talk open at 3:30 p.m. Saturday. The Deep Steep Tea Co. will provide brewed tea, and fresh scones will be served.