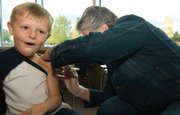 If you go
The Northwest Colorado Visiting Nurse Association will hold a vaccination clinic for children 18 and younger from 3 to 5 p.m. today at Soda Creek Elementary School. The cost is $14 or less per shot, based on a sliding scale accounting for family income.
The VNA also offers drop-in clinics from 4 to 6 p.m. Tuesdays at Steamboat Springs High School and from 9 a.m. to 4 p.m. Thursdays at VNA offices at Yampa Valley Medical Center.
Steamboat Springs — The Northwest Colorado Visiting Nurse Association says its remaining stock of seasonal flu vaccine is reserved for children, under a distribution agreement with the state. The shortage means no adults will receive seasonal flu shots from the VNA.
The VNA is the public health agency for Routt County, and spokeswoman Suzi Mariano said vaccine distributors are shifting their focus to manufacturing the H1N1 flu vaccine.
"We get a certain amount per week, and throughout the season we get multiple shipments of vaccines," she said. "They notified us that they're going to stop producing the (seasonal) vaccine."
The state will continue to provide seasonal flu vaccines for children through a state program with medicine allocated for children. The FluMist nasal spray vaccines are $14 or less, based on a sliding scale to account for family income, and are available for anybody 18 and younger, Mariano said. The VNA will hold a special clinic today from 3 to 5 p.m. at Soda Creek Elementary School.
Flu vaccinations for adults are available at local pharmacies, but even those are running low, pharmacists report.
City Market pharmacy manager Susan Seitz said there has been high demand during the past several weeks for the seasonal vaccine.
The pharmacy offers vaccinations for anyone older than 9, she said. The cost is $25, but that is often paid in part by insurance, Seitz said.
"We've got quite a bit (of vaccinations), but I bet according to the demand, it's going to last a couple weeks," she said. "Once this is gone, that's it."
City Market pharmacy offers vaccines during normal business hours, Seitz said, with some wait times longer than others. Safeway pharmacy also is offering vaccinations for people 12 and older for $28. Safeway pharmacists will host a flu clinic from 9 a.m. to 1 p.m. Friday, and also will offer flu shots during normal business hours.
H1N1
Mariano said the VNA and Yampa Valley Medical Center received their first shipment of H1N1 vaccine this week. VNA received 100 doses, and YVMC received 300. No other local physicians or pharmacies have yet received the vaccines, and there is no indication when more H1N1 vaccine will arrive in Steamboat.
The first batch of the medicine is reserved for health workers, according to guidelines from the Centers for Disease Control and Prevention.
After doctors and medical staff are treated, future shipments of the H1N1 vaccine will be available for the public.
"It's a little complicated because we only have a mist," Mariano said. The mist is intended only for healthy people ages 2 to 49, and is not meant for pregnant women.
Mariano said the VNA will focus on offering H1N1 vaccinations to high-risk people.
Hospital visit restrictions
The Colorado Hospital Association on Monday announced that hospitals across the state are implementing visiting restrictions because of the flu season, including restricting access to anyone 12 or younger or, in at least two Denver-area hospitals, visitors 18 and younger.
YVMC spokeswoman Christine McKelvie said hospital administrators are working to finalize guidelines for the Steamboat Springs facility. She said the guidelines would likely be announced today.
- To reach Zach Fridell, call 871-4208 or e-mail zfridell@steamboatpilot.com