Bennett defends voting stance
Ads tout record of public votes; not all issues made it that far
Tuesday, October 13, 2009
Election 2009
Visit
www.steamboatpilot.com/election2009
for complete coverage of this year's races and issues.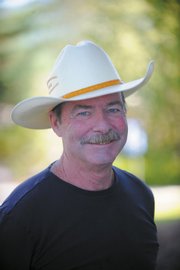 Upcoming political coverage
Today is the deadline for candidates to file a campaign finance report for the reporting period ending Oct. 8. See Wednesday's Steamboat Today for coverage of fundraising totals and contributors to local campaigns.
See Thursday's Steamboat Today for profiles of District 1 Steamboat Springs City Council candidates Kevin Bennett and Cari Hermacinski.
Campaign ads fact check
Steamboat traffic vs. Eisenhower Tunnel
Claim: A campaign ad for City Council candidate Kevin Bennett, published on page 3 of the Oct. 7 Steamboat Today, states in reference to Steamboat 700: "Lincoln Avenue currently has about the same average daily volume of traffic as travels through Eisenhower Tunnel."
Facts: According to the city of Steamboat Springs' most recent traffic study - the NEPA study conducted by Jacobs Engineering - there were 19,310 average daily trips at 13th Street and Lincoln Avenue in December 2008. The study projected that there were 31,282 average daily trips at that location during the summer of this year. The Colorado Department of Transportation reports that there were 31,559 average daily trips on Interstate 70 at the Eisenhower Tunnel for the entire year of 2008. That includes 32,771 average daily trips in December 2008. There were 39,536 average daily trips in July 2009.
Verdict: According to CDOT numbers, the Eisenhower Tunnel sees about 8,000 more vehicles per day during summer months, and about 13,000 more vehicles per day during winter months. The winter comparison is the most accurate, because both numbers - the city's NEPA study and CDOT's traffic count - are actual vehicle counts from December 2008, not projections.
How much water?
Claim: Another campaign ad for Bennett, published on page 9 of the Sept. 29 Steamboat Today, states in reference to Steamboat 700: "There is not enough water (owned by the city) in Fish Creek Reservoir to accommodate west Steamboat growth. Proponents claim the water is available by proposing to use 45 percent of our water reserves, needed in case of drought, fire, or other emergency."
Facts: The city's storage rights in Fish Creek Reservoir are 2,518 acre-feet, according to the Mount Werner Water and Sanitation District. The most recent water demand report submitted by Steamboat 700 states a need for 1,111 acre-feet, or 44 percent of the city's Fish Creek Reservoir allocation. Steamboat 700 also would be required to pay about $1 million to firm up existing city water rights in sources including the Elk River and Stagecoach Reservoir.
Verdict: It's true that Steamboat 700 proposes to use about 45 percent of the city's water storage rights in Fish Creek Reservoir. But Bennett's claim doesn't acknowledge the city's other water rights and sources. The nearly $1 million proposed payment from Steamboat 700 would help develop some of those rights, including an 8 cubic feet per second in-stream flow right from the Elk River and 552 acre-feet in Stagecoach Reservoir.
Brandon Gee contributed to this report
Steamboat Springs — City Council candidate Kevin Bennett, whose campaign ads cite the need for a public vote on Steamboat 700, said Monday that his council didn't seek a public vote on the adoption of the West of Steamboat Springs Area Plan in 1999 partly because the community wouldn't understand the plan's complexities.
"We decided that no one would know what we were talking about; it was way too early," Bennett said Monday about the lack of a public vote on the adoption of the WSSAP a decade ago, when he was council president. "It takes years for these things to be understood."
More than any other City Council candidate this fall, Bennett is placing political ads that make strong statements about local issues and his past record as an elected official. Bennett's opponent, Cari Hermacinski, primarily has taken out ads touting broad statements about her goals and providing contact information.
Among other positions, Bennett repeatedly has used ads to support public votes on big city issues.
"I will continue to include the citizens' vote on all major issues, as I have done in the past," reads an online ad for Bennett at SteamboatPilot.com.
But public votes did not occur on some of the major issues during his previous service on City Council.
During Bennett's tenure as a councilman from 1993 to November 2001 - he was council president from 1995 to 2001 - a public vote provided funding for Haymaker Golf Course. A 1999 public vote on a downtown development authority, an effort to fund public improvements, failed.
There was no public vote on the West of Steamboat Springs Area Plan; on funding for the expansion of Howelsen Ice Arena and construction of Centennial Hall; or on impact fees that, when initially approved in 2001, placed a fee of $4,454 on the construction of single-family homes of any size, and of $1,186 per 1,000 square feet of new commercial space. City Council approved the impact fees unanimously in June 2001 in an effort to fund Steamboat's capital costs.
In the following weeks, petitioners gathered 889 signatures to put the impact fees on a ballot for voters. That number surpassed the 10 percent of registered voters in the last municipal election that the state constitution required for a petition-driven referendum but fell short of the 20 percent required by Steamboat's home rule charter. In sticking with the charter requirement, Bennett's council and city staff denied the petitioners a ballot issue. An American Civil Liberties Union lawyer came to Steamboat to oppose the denial, calling the city's stance unconstitutional.
Bennett, in an article published in the Aug. 5, 2001, Steamboat Pilot, said the lawyer's position was "one person's opinion."
The City Council reduced the impact fees in September 2001, dropping the fee for a detached single-family home to $4,000, among other reductions. In November 2002, voters replaced the impact fees with a 1.2 percent excise tax on new development.
On Monday, Bennett said a public vote on the impact fees was not needed.
"We don't need a public vote on everything - we don't need a vote on impact fees that were established after a great deal of research and a nexus was established to the legality of it," he said. "We proceeded in a very legal fashion and did all the appropriate research and findings of fact to allow for this fee and other fees to be established. : It wasn't the feeling of council that this should go to a vote."
A referendum issue on this fall's ballot seeks to lower the city's petition threshold to match the state's 10 percent requirement. As part of Steamboat 700's annexation agreement, the current City Council and Steamboat 700 developers agreed that the 10 percent threshold, as opposed to the city's charter requirement of 20 percent, would be sufficient in the event of a petition drive challenging the council's eventual Steamboat 700 vote.
Funding choices
The expansion of Howelsen Ice Arena and construction of Centennial Hall were funded by certificates of participation, essentially bonds that negated the need for a new tax.
Bennett said each project had significant local support. The ice rink expansion was facilitated by three public committees and about $500,000 from the local business community, Bennett said.
"That tells the council at the time that there was enormous community buy-in; it was an enormous priority, and it's one of the most successful community projects we've ever created," he said.
Centennial Hall also benefited from private donations and was a vital piece of public infrastructure that moved City Council meetings out of the police station and into a much more publicly accessible venue, Bennett said.
"These are perfectly acceptable financing mechanisms and should not need a city vote," he said about the projects.
The WSSAP, updated in 2006, is the guiding document for west Steamboat growth and the proposed Steamboat 700 annexation, which the Steamboat Springs City Council is slated to vote on tonight.
Earlier this month, Bennett said that at the time of the original WSSAP adoption vote in 1999, he considered placing a non-binding resolution on the ballot about future annexations and whether they should be voted on if they didn't "pay for themselves."
"I'd been thinking about a vote of the people for a long time. : I wanted to put on the ballot, at the time, a direction question," Bennett said. "And that was a very rudimentary way of saying, 'Attention, community, heads up.' My other council members thought that this would really hurt affordable housing, so we took it off."
In each case - the WSSAP, impact fees, Centennial Hall and Howelsen Ice Arena - Bennett said there is no comparison to the need for a public vote on Steamboat 700, which he called "one of the biggest decisions in our community's history."
"The impact fees are not as significant to the community as giving up 46 percent of the water in our reservoir and allocating it" to 700, Bennett said.
Brandon Gee contributed to this report
- To reach Mike Lawrence, call 871-4233 or e-mail mlawrence@steamboatpilot.com