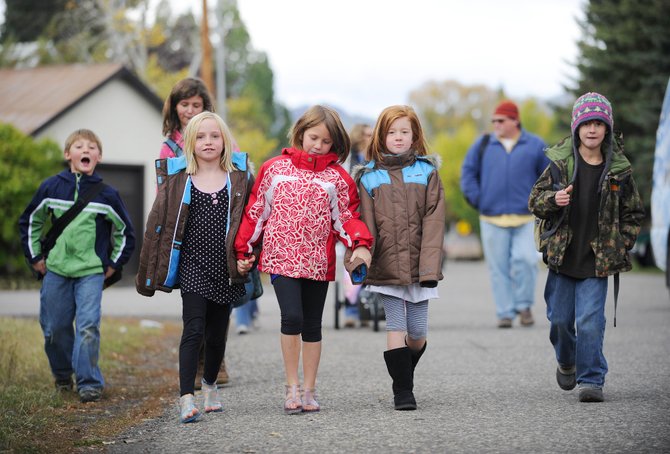 Weekend weather a mixed bag
Storms expected to bring chilly, wet conditions through Monday
Keep up with the conditions
- For local weather conditions and recent coverage of Steamboat Springs weather, visit SteamboatToday.com/weather
- View webcams of Steamboat Springs at SteamboatToday.com/webcams
- For weather information from the National Weather Service, including storm warnings and advisories, visit www.wrh.noaa.gov/
- The Colorado Department of Transportation provides road conditions, closures and traffic cameras at www.cotrip.org. For travel information by phone, call 511 from anywhere in Colorado or dial (303) 639-1111.
- For flight information, visit www.flightview.com/ TravelTools/. By phone, call Delta Airlines at (800) 241-4141; United Airlines at (800) 864-8331; and American Airlines at (800) 433-7300
Steamboat Springs — Count yourself lucky if Monday's Columbus Day holiday means a day off work because the weather in Northwest Colorado is going to be unsettled until then.
A couple of storm systems are expected to move through Routt County today, Saturday and early Sunday before giving way to clear skies and higher temperatures Monday. But the nice weather isn't expected to last long because another series of storms will descend on Colorado from the Pacific Northwest midweek, National Weather Service meteorologist Mike Chamberlain said.
It should be breezy and possibly rainy for today's 2 p.m. Steamboat Springs High School homecoming parade along Oak and Pine streets. The same conditions are expected to hold true for the 7 p.m. Steamboat Springs football game against Rifle.
The weather shouldn't be much different in Oak Creek, where the Soroco Rams host Dove Creek at 7 p.m. The National Weather Service forecasts a 40 percent chance of precipitation, with a low tonight of 25 degrees. Today's high will be about 50 degrees.
There's a chance for snow accumulation at higher elevations tonight, Chamberlain said. Areas above 9,000 feet could pick up a couple of inches of snow by Saturday morning. However, the bulk of the storm systems will stay north of Colorado.
Saturday's high will top out in the low- to mid-40s, and there's a 30 percent chance of precipitation. Saturday night's low will be 20. The same goes for Sunday.
A high-pressure ridge is expected to move into the region Monday, bringing sunny skies and warmer weather. Monday's forecast calls for highs in the low 50s.
Don't get used to it, Chamberlain warned. More storm systems are forecast to hit our region midweek.