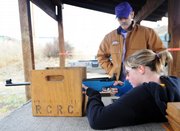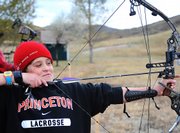 How to help
Those who weren't able to attend the Fun Shoot but still would like to donate can give to the Lorna Lou Farrow Memorial Fund, benefiting women's shooting sports, 4-H shooting sports and the Bust of Steamboat, which has been set up at Mountain Valley Bank in Steamboat Springs. Some area businesses, including Steamboat Smokehouse and Ace at the Curve, also have donation jars.
Steamboat Springs — Sunday was a day Lorna Lou Farrow would have loved, many said.
A number of people new to shooting and those with more experience attended the Lorna Lou Farrow Memorial Scholarship Fun Shoot in her honor from 9:30 a.m. to 2 p.m. at Routt County Rifle Club. The event is expected to be annual.
"It makes me feel good," Farrow's husband, Gary, said after a long pause to compose himself, referring to the people who attended to support his wife's memory. "She'd look down and like it."
Farrow died July 28 after she was struck by a dump truck while checking her mailbox on U.S. Highway 40 near Farrow Repair Service, the business she owned with her husband and her brother-in-law, Dusty. She was 58.
Deb Schaffer, who organized the Fun Shoot, said the purpose of the event was to continue promoting women's and youths shooting sports - what had become Farrow's passion. A number of stations were set up Sunday, with instruction in shotgun, pistol, rifle, black powder, air pistol rifle, archery and firearm safety.
Funds raised will be dedicated to women's shooting sports, 4-H shooting sports and the Bust of Steamboat.
Gary Farrow said he taught Lorna how to fire a gun shortly after they were married in the early 1970s. From there, he said, she began competing and teaching women and youths. Gary Farrow said his wife saw a need for that instruction.
Sunday's event showed that need still exists.
Steamboat resident Bethany Aurin brought her two daughters, Aleigh, 14, and Hayleigh, 11, to the Fun Shoot. She said the shotguns were a little intimidating and big for Hayleigh, who got knocked back after shooting one.
But that didn't stop Hayleigh - who had shot BB guns and pellet guns in the past, but not rifles, muzzle loaders or arrows - from beaming, a wide smile stretched across her freckle-covered face while she described her first experience with new firearms.
"I think it's an adrenaline rush," she said. "It kind of makes me feel excited. I don't know how to explain it. You feel like you have a lot of power."
Bethany Aurin, who was a friend of Lorna Farrow's, said Farrow had encouraged her and her daughters to get involved in shooting sports, but they never took the time until now.
"To support a scholarship fund for someone as awesome as Lorna, it's a no-brainer," she said. "I think like us, there's a lot of people who are kicking themselves for getting involved now. I'm just sad for the circumstances. I would rather be doing this with Lorna."
T.J. Sisto, who was one of the .22-caliber rifle shooting instructors, said Farrow got him and his children involved in the 4-H shooting program that she ran with her husband for years. He said not just shooting, but also getting others involved, was Farrow's passion.
"Today, we've had about a dozen people who've never shot before, many of them kids," Sisto said.
Steamboat resident Heidi Mueller brought her three daughters, Mikala, 10, Nichole, 8, and Lauren, 5, to the Fun Shoot. But only Mikala was old enough to shoot, Mueller said. She said the event gave Mikala, who's already involved in the 4-H shooting program, a chance to try some new firearms while they supported the scholarship fund.
Mikala shot two of three clay pigeons while shooting a shotgun for the first time.
"It's fun because you get to hit the target and see how you do," she said.
With more than an hour and a half left to go at the Fun Shoot, Schaeffer, who got involved in shooting through Farrow, said more than 60 people had come out to the event. It cost $30 with discounts for families, and participants were given a T-shirt and provided lunch.
"We hope to continue this," Schaffer said about the Memorial Scholarship Fun Shoot. "We've had a lot of support from the community and area businesses. A lot of people knew Lorna. She touched a lot of lives."