Election 2009
Visit
www.steamboatpilot.com/election2009
for complete coverage of this year's races and issues.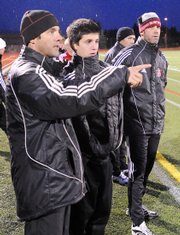 Don't forget
Monday is the last day to register to vote or update your address with the Routt County Clerk and Recorder's Office. Log on to www.steamboatpilo... to download registration forms and to verify your voter status. Voters also can call the Routt County Clerk and Recorder's Office at 870-5556 or stop by the Routt County Courthouse.
Steamboat Springs — One word consistently pops up in conversations with or about Kenny Reisman: passion.
It's in his voice when he talks about his past, his new small business and the time he rescued a 19-month-old girl being attacked by a pit bull on a New York beach.
Yes, that really happened.
His passions are revealed in his office, where he sits at his grandparents' kitchen table in his Steamboat Springs High School soccer pullover and isn't afraid to get emotional about his family. Passionate is one of the first words colleagues use to describe his work and observers use to describe his performance at election forums.
Reisman will face longtime local Ken Solomon for the District 2 Steamboat Springs City Council seat in this year's election.
Reisman's passion is endearing and may give him a boost during the campaign. But passion isn't everything. As far as it may get Reisman, it's not enough to make him a good policymaker.
And he knows it. It's a lesson he's learned before.
A sporting chance
For Kenny Reisman, there are many parallels between soccer and life.
"You can't call a timeout in soccer, and there's just something about that - just trying to manage it on the fly," said Reisman, a former college player and volunteer coach in Steamboat Springs. "There's only two ways to do it: with communication and working together with a commitment to a common purpose."
Politics often are compared to and even considered sport, so the connections are bound to continue throughout the election season and, if Reisman's lucky, beyond. Rob Bohlmann, Steamboat Springs High School head boys varsity soccer coach, said Reisman constantly shows him traits on the pitch that would make him a good councilman.
"It happens on a daily basis," Bohlmann said. Thursday, "we lost a tough game, and we just didn't feel good. His message was we just have to pick each other up and move forward. He constantly looks toward the positive and keeps moving forward."
Bohlmann said Reisman is so passionate about soccer that he sometimes has to remind him during games to settle down. Reisman is feeling similarly competitive about the election.
"I feel like I'm the best candidate," Reisman said. "I feel like everything leading up to now makes me the best candidate, and I want to see that end result."
Different candidates
Reisman sees many differences between himself and Solomon. He wastes no time attacking what his opponent has counted as his greatest advantage: experience on boards and commissions. Neither candidate has held elected office.
"He believes the vital experience is the time spent on a committee," said Reisman, a former teacher. "I think he's seriously wrong on that. I think the vital experience is the time spent with : the people of this community."
When asked about the potential need for a city property tax, Solomon has revealed more openness to the idea than Reisman.
"To start talking city property tax right now when there are so many people who are struggling is not the right way to go," Reisman said.
The two also disagree about the proposed Steamboat 700 annexation, with Solomon opposing it and Reisman leaning toward support. Reisman said he is concerned about comments made by Solomon that the city should follow a policy of not approving big development proposals until the market is ready to absorb them. Reisman said that kind of reactive governance leads to decisions like the city's purchase of the Iron Horse Inn, and he said the city needs planned growth.
If elected, Reisman said, one of the first things he will ask the city to look into is new ways to boost sales tax revenues by putting the demolished Ski Time Square site to use and creating special events such as one that attracts tourists to the Yampa Valley to view its spectacular fall colors.
Lessons learned
Former colleagues at The Lowell Whiteman School, where Reisman taught in the 1990s, gave the candidate glowing reviews as a teacher and potential politician.
Academic Dean Joanne "Doc" Lasko said Reisman interacted well with the students, was intellectually committed to his courses and was a good listener and debater. Dean of Students Mitch Globe said Reisman earned the respect of his students. Longtime Lowell Whiteman teacher Joe Roberts said he was impressed by Reisman's work ethic and his desire to help kids succeed.
"He never expressed an interest in running for office, but he definitely paid attention, knew the issues," Roberts said. "He's conscientious - very conscientious. : He wouldn't take the job, he wouldn't run for it, if he didn't think he could do it right."
Reisman, however, said he wasn't always a great teacher.
"I think passion got me in trouble," Reisman said. "I taught the material. I taught it passionately. But later : I learned that with some kids that's not enough. They need creative strategies to help them learn."
Later, Reisman learned a similar lesson that ultimately led to his exit from the teaching profession.
"I felt like I wasn't being a good parent, and simply because of time management," Reisman said. "I just didn't really have the energy for my kids, and they were young. What I realized was if you want to be good at something : you have to commit to it. : I couldn't just be good because I was (a parent)."
If elected, Reisman said, he won't assume he is a good council member just because he is one. He said he would commit to it and also measure his passion when appropriate. After all, politics often is more about compromise than rigid devotion to passion.
"You can't have it to where it clouds your judgment," Reisman said. "Like anything, you have to channel your passion."