Audio clip
"This One — Voodoo" by String Board Theory
Audio clip
"Nice Sunday" by String Board Theory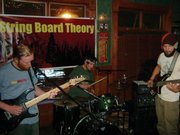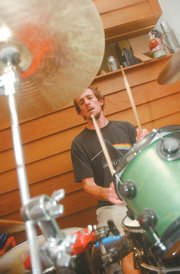 If you go
What: String Board Theory, jam rock
When: 10 p.m. Saturday
Where: Old Town Pub, 600 Lincoln Ave.
Cost: Free
Call: 879-2101
Steamboat Springs — After almost six months away from Steamboat Springs bar stages, jam rock band String Board Theory is set to play a free reunion show Saturday at Old Town Pub.
"We took a summer hiatus for personal time, and we are back with a whole new sort of attitude, a slightly new sound, new songs and a new, better, more positive energy," String Board Theory bassist Jeff Barlow said Tuesday.
The updated String Board Theory is leaning toward a sound that's "a little more funky, a little more edgy, a little more electronic," Barlow said. That approach has evolved in the two years String Board Theory has been playing instrumental music to get people dancing at Steamboat's venues.
"We also feel Steamboat needs a more dance-y band," Barlow said. "Most of the bands here are rock or bluegrass, which is all great, but sometimes people want to dance to a more solid beat."
The revised style, which keeps String Board's characteristic looseness, comes with a little more input from each player's tastes, Barlow and drummer Jeff Hayes said. Each member of the trio has progressed as a musician during the band's time off, taking time to discover his own style and mesh together as String Board Theory, Hayes said.
Guitarist Tyler Kimball drives the band's rock edge, Hayes provides the firm background for a funky beat and Barlow gives the product an electronically influenced finish.
"We all feel more enlightened musically and ready to give people what they want to hear but what they won't expect to hear," Barlow said.
To clarify, "You're going to like what you hear, but you won't expect it, I suppose," Barlow said.
The group plans to pick up where it left off, and Barlow said he was in the process of booking shows in Steamboat and on the Front Range through the winter and spring. String Board Theory plays with Olympia, Wash.-based folk and bluegrass band Boozegrass on Jan. 1 at Ghost Ranch Saloon. To stay on top of String Board's gig schedule, go to www.myspace.com/stringboard theory.