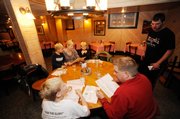 New salon opens in South Routt
Reflections Salon & Spa opened Nov. 22 in Phippsburg.
"We are offering hair, nails and hopefully, come February, we'll be doing massages and facials," owner Kelsi Edwards said. "We're a full-service salon."
Reflections is open from 9 a.m. to 5 p.m. Wednesdays through Fridays and from 10 a.m. to 4 p.m. Saturdays, at 21595 Second Ave. in the South Routt County community.
Edwards said Reflections plans to offer gift cards and hopes to have them available for the holidays. The salon has a warm, inviting atmosphere, she said.
"We want to make it feel welcome for anybody to come and sit down and have a cup of coffee," she said.
Call Reflections at 970-736-8274.
Steamboat Springs — Large-scale interior renovations are planned at Mazzola's Italian Restaurant.
Rex Brice, who runs Mazzola's along with Rex's American Grill & Bar and Big House Burgers, said the renovation plans include enlarging the Mazzola's bar area by pushing back a wall — the one behind patrons seated at the bar — about 5 feet. Plans also include redoing the walls, floors and ceiling, remodeling the entryway and adding new tables and lighting, Brice said.
"We've got quite a bit going on in there," he said Tuesday.
Brice said the first phase of the work could begin in about a week in order to be finished before Christmas.
"We're hoping to get most of the work done in the dining room, other than flooring," he said about the first phase.
The second phase of work is planned for the spring, he said.
Brice said the renovations will use "warm tones and darker colors" to "embrace the cozy, basement feel" of Mazzola's location under the Hotel Bristol on Lincoln Avenue in downtown Steamboat Springs.
"I think when it's done, in the spring, people are going to be really impressed with the finished product," Brice said.
Mazzola's is open from 5 p.m. to 2 a.m. seven days a week at 917 Lincoln Ave.
Brice said he feels fortunate to be able to renovate Mazzola's despite the down economy.
"Our sales are down, just like everybody else's — this fall has been pretty tough, as I anticipated," he said. "I don't think we've seen the end of this recession yet, but I think it's important to keep working on your business, and we're lucky that we're in a position to be able to do that."
Store revamps inventory
David Chase Scully, owner of David Chase Rugs & Furniture, said talks about a potential renovation at his store did not pan out, but he is changing the store's merchandise plan and having a sale to clear some needed space.
Scully said that during summer he talked with owners of Healthy Solutions — which is next to the furniture store at Third Street and Lincoln Avenue — about expanding Healthy Solutions into part of the furniture store by leasing part of the showroom.
"At the end of the discussions, nothing came to fruition," Scully said.
Scully said he is changing his showroom strategy to offer more furniture and fewer large rugs, which aren't selling in the struggling economy. The store is holding a sale on large rugs through March, Scully said.
The store instead will offer samples of rugs that customers can order in larger sizes, Scully said. A furniture sale continues through Dec. 15, he said, to clear out discontinued merchandise and create space for more furniture to feature in the showroom.
"We've got some good sales opportunities and values for people to come in and shop right now," Scully said.