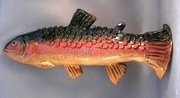 If you go
What: Steamboat Clay Artisans Holiday Pottery Sale
When: 5:30 to 8 p.m. Friday reception and pre-sale; 9 a.m. to 6:30 p.m. Saturday sale
Where: Depot Art Center, 1001 13th St.
Cost: Free admission, pottery prices vary
Call: Deb at 846-9349
On TV: Learn more about the Steamboat Clay Artisans Holiday Pottery Sale from artists and event organizers Deb Babcock and Barb Gregoire on the "Steamboat Today" morning show at 8:20 a.m. Friday.
Steamboat Springs — For many members of the Steamboat Clay Artisans, the group's annual Holiday Pottery Sale is a rare chance to get their work seen and sold.
"A lot of the clay artisans in town are people who work a full-time job, and they're making their pottery in their basement or their garage," group member and potter Deb Babcock said.
During a pre-sale and reception Friday and an all-day sale Saturday at the Depot Art Center, about two dozen artists from the Steamboat Clay Artisans will display and sell their work.
Selections range in style and technique, and sale booths will offer functional and nonfunctional pieces in a range of firing shades and colors.
"It's a whole lot of fun. We'd love to see … people come out and look at our work, and pottery makes a really, really nice gift," Babcock said.
The sale typically draws 500 to 700 people through its run during Thanksgiving weekend, she said.
The Clay Artisans don't meet on a regular basis, so the Holiday Pottery Sale is a chance for everyone to get together and share ideas. Group members also organize the Soup Bowl Supper charity dinner each fall, host occasional speakers or pottery experts for demonstrations and work together to obtain clay and other supplies, Babcock said.
Clay Artisans member Julie Anderson said the sale is an outlet for her pottery, which was displayed for the past few years at K. Saari Gallery. Most of her gallery pieces were sculptural and nonfunctional, Anderson said. Her collection for sale Friday and Saturday will be simplified and usable, she said.
Anderson teaches several pottery technique classes in town and said she hopes her students will use the sale as an opportunity to see many types of ceramic work.
A reception from 5:30 to 8 p.m. Friday and sale from 9 a.m. to 6:30 p.m. Saturday at the Depot Art Center is a shift from the sale's two-day schedule in previous years, Babcock said.
Organizers chose to cut the usual Sunday sale and add a reception to provide a preview for buyers who'd like one and join in on the entertainment options available Thanksgiving weekend.
Friday's reception includes hors d'oeuvres prepared by Clay Artisans, drinks and acoustic reggae music by local band Knock on Wood.
"Potters are really good cooks, so the food is going to be excellent," Babcock said.
Sale items range in price. A table of low-priced items will be available to children buying holiday gifts, Babcock said.