How to help
For more information about Amahoro Project 1919, or to make a non-tax deductible donation, call Jacquie Lewis at 879-5242 or e-mail her at: jacquie@australia...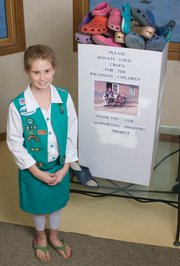 The blue, yellow and green boxes are ready to go.
Loaded in the back of a van, they will be placed at schools, grocery stores, banks and at Bud Werner Memorial Library today in Steamboat Springs. If all goes as planned, the boxes will be filled with new and used Crocs and other shoes that will be sent around Christmastime to an orphanage in northern Rwanda.
Reagan Mertz, 11, is collecting shoes for the 32 children who live at the orphanage as a project to earn the Girl Scouts' Bronze Award.
When she was trying to figure out what she could do to demonstrate her "commitment to helping others, improving her community and the world," the requirements for the project, Reagan said she was stumped.
But Jacquie Lewis, who works at NPW-USA in Steamboat, had an idea.
In September, Lewis visited Africa with her husband, Bruce Caplowe. They spent five days in Rwanda, where they visited the orphanage. After returning, Lewis and Caplowe decided they wanted to do something.
They started a nonprofit organization called Amahoro Project 1919, to benefit the children who live in the orphanage and the more than 700 children who were orphaned because of genocide in 1994, war from 1996 to 1998 or the AIDS epidemic.
"We came away with a sense of hope, and that's really what this whole project is all about," Lewis said.
Amahoro means "peace" in Kinyarwanda, the language spoken in Rwanda, and 1919 commemorates the year Lewis' and Caplowe's fathers were born.
The project is an incorporated nonprofit organization in Colorado. Lewis said they are in the middle of registering with the Internal Revenue Service, which will allow them to accept tax-deductible donations. They still will take donations, however, to assist with the cost of shipping.
Lewis said at the orphanage, she and her husband realized they could help. They wanted to do something to honor their fathers, but they wanted to provide an avenue for others to also be involved with something to have a direct relationship with the children they would assist.
Reagan said in many of the pictures Lewis took of the 5- to 15-year-old children who live at the orphanage, not many wore shoes. Lewis suggested that Reagan collect Crocs that could be sent to the orphanage. Reagan agreed.
"I think it's important because …" Reagan said, pausing to think about how to describe the project, "I'm helping kids that aren't as fortunate as me."
Lewis said Crocs were ideal because of the warm climate of the Musanze district of Rwanda and because Crocs are lightweight. Shipping a 20-pound box to Rwanda costs about $114, Lewis said.
Reagan's project is the first of many drives Amahoro Project 1919 has planned to assist the orphanage. In December, the group hopes to collect towels for a recently completed shower block that was built at the orphanage. They'll collect plastic plates and bowls and used cutlery in January for the children's use in a new mess hall.
"We hope the project not only provides humanitarian aid and community aid," Lewis said. "But we want to get (kids) here like Reagan involved in social entrepreneurship."
John Mertz, Reagan's father, said the importance of giving back is something he and his wife, Victoria, have worked hard to impart on their children.
"The most important thing we've tried to teach the kids is if you can integrate giving back in your daily life, these bigger projects aren't so insurmountable," he said.
With the help of her siblings, Reagan painted the donation boxes — which soon will find new homes throughout Steamboat — blue, yellow and green, the colors of the Rwandan flag. The boxes also include some of the photographs Lewis took.
Reagan will collect Crocs for the next few weeks. She hopes the boxes will be filled in that time.
"I just want kids to be happy," Reagan said.