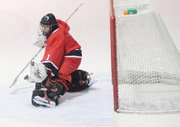 Steamboat Springs — Technically, the Steamboat Springs High School hockey team didn't win squat Saturday night.
The team's trio of games at the Howelsen Ice Arena were all scrimmages, and even though fans filled the stands, an announcer filled the air and a concession stand filled the lobby, nary a goal was scored.
If anyone had been taking notes, though, they'd have come up with some numbers the Sailors team would be proud of.
Still 0-0 in the season, Steamboat got the best of two of its three opponents Saturday night, and for now, that's good enough for the team.
"More than anything, we're happy we put a lot of pucks in the net," Steamboat coach Jeff Ruff said.
The scrimmages represented the Sailors' first break from practice, and early in the day, as much was obvious.
The team was at its worst in its first scrimmage, a late-morning showdown against Doherty. Even that wasn't so bad, though, and the teams played basically evenly.
"We came out a little slow," Ruff said. "We didn't have the intensity I would have liked to have seen."
As the day went on, Steam­boat improved.
It managed to score at least 10 goals in its second game, against Peak to Peak, then in the final game, against Pine Creek, the Sailors put in two goals to "win" 2-0.
"We definitely passed really well in the last two games," said sophomore John Wharton, who scored a hat trick in the first game. "We also played really strong defense."
At their best, the Sailors were powerful on both ends of the ice, whipping the puck around for clean shots on offense or collapsing to offer strong support on defense.
The offense never looked better than it did on one play in the final game.
First, senior Vladan Chase opened the game's scoring with what he called a lucky tap.
"Jon Winkelblech was going down, and I was following him hard," Chase said. "He took the shot, but it went off the boards. When he chased it down, he went to stop, and it popped up, and I just batted it down.
"It was an awesome day. I had a blast."
Then, Winkelblech made it 2-0 with perhaps the sweetest play of the night.
Kaelen Gunderson took the puck past the goalie's left side, halfway behind the net.
He then quickly flicked it back out in front right as Winkelblech was charging toward the net.
The senior deftly received the pass and immediately slid it in for a score.
"That was a beauty," Ruff said.
Steamboat takes the ice for games that count starting Dec. 4 when it will travel to the Mountain Hockey Tourna­ment in Aspen.
There, it will face off against Aspen, Battle Mountain and Summit.
"We won that tournament last year," Ruff said. "We're looking to go back and win again and make a strong showing."