Thanksgiving meals
■ Oak Creek
Shorty's Restaurant, noon to 3 p.m.
Local churches and restaurants are sponsoring this free community Thanksgiving dinner in Oak Creek. To help with the meal, call Cody at 720-318-5461.
■ Steamboat Springs
Steamboat Springs Community Center, 1 to 5 p.m.
Routt County United Way presents its annual free community feast, with donated food and volunteer servers. Call the United Way at 879-5605 to donate turkeys, mashed potatoes, sweet potatoes, green beans, desserts, rolls and other prepared foods. 1605 Lincoln Ave.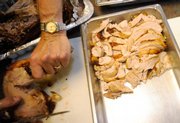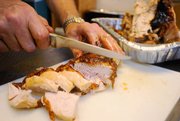 Steamboat Springs — Roasted, brined or deep-fried, a turkey is the centerpiece of most Thanksgiving spreads.
There are countless ways to season, cook and serve the traditional bird, and Routt County chefs and cooks have identified their favorites through years of serving holiday meals.
Collected here are a few of those methods. No matter which you choose for your plate Thursday, a couple of tips from Steamboat Meat & Seafood Co. owner Bill Hamil apply to any preparation.
To serve a turkey on Thurs­day, buy it fresh any time or buy frozen no later than Tuesday. A frozen bird needs to sit in the refrigerator to thaw out safely before it goes in the oven, Hamil said.
"You want to thaw things at the slower temperature. It's better for the meat instead of thawing it really fast," Hamil said.
After the turkey is prepared, it needs to cook for 20 minutes per pound for any roasting recipes, he said. A meat thermometer should read the internal temperature at 165 degrees.
To carve, run a sharp knife down each side of the cooked turkey's breastbone. Pull the meat off the thighs and leave the drumsticks whole for service.
The traditional
Of the dozens of ways to cook a turkey, Hamil prefers the simplest. For his roasted turkey, Hamil likes to start with a fresh bird, though a properly thawed one will work, he said.
To follow Hamil's method: Preheat the oven to 325. Rub the turkey with olive oil, and season it all over with salt and pepper. Put celery stalks and onion in the cavity of the turkey, and season that with salt and pepper. If you've made stuffing or dressing, line the bottom of your roasting pan with the trimmings — small pieces of celery, onion or whatever vegetable you've used.
Cook the seasoned turkey in the preheated oven for 20 minutes for every pound of its weight. Use the turkey drippings and pan vegetables to make gravy.
The bag
On and off for the past 15 or so years, Mary Bramer has contributed food, time or both to the Routt County United Way Community Thanksgiving Dinner. This year, she's committed to donate a turkey and is considering using a time-honored cooking method she learned from her mother and has tested several times herself.
Bramer, who recently retired as director of the North Routt Community Charter School, cooks her turkey in a large paper bag. She starts her recipe by thoroughly cleaning the turkey, inside and out.
To follow Bramer's method: Stuff the cavity with whole or halved apples and some celery stalks. Season the outside of the bird with salt, pepper and sage. Sprinkle with Beau Monde Seasoning, an all-purpose savory spice blend that includes cloves, cinnamon, salt, bay leaf, white pepper, nutmeg and other flavors.
Put the turkey in a roasting pan and put the whole package — the turkey and the pan — in a large brown paper bag. Cook to the temperature and directions listed on your turkey packaging. Make sure the bag isn't touching the oven coils to avoid a fire hazard, and make sure it's not touching the turkey to avoid sticking.
Bramer's paper bag method keeps the finished bird moist, with a nice, crispy browned skin, she said.
"It allows more air exchange probably than the plastic bags, so that you get a little more crisp skin than with the regular plastic turkey bags," Bramer said.
The brine
For the first turkey she ever cooked, Steamboat Springs resident Sherry Benson was looking for a knockout recipe. She found one with an unusual combination of spices in an edition of Light & Tasty magazine more than five years ago, and the recipe has made the circuit around her family since.
Benson's favorite Thanks­giving method uses an apple-cider-based brine and a 12- to 24-hour marinating process.
The marinade starts with 8 cups apple cider or unsweetened apple juice; 1/2 cup kosher salt; two bay leaves; two sprigs fresh thyme; eight whole cloves; five garlic cloves; and 1 teaspoon whole, crushed allspice. Bring all that to a boil in a large stockpot, and boil until the salt dissolves. To that, add two medium navel oranges that have been quartered, and remove the mixture from the heat. Add 3 quarts of cold water and cool the mixture to room temperature.
Remove the giblets from a 12-pound turkey and place the turkey in an oven roasting bag. Put that turkey bag in another bag, and pour in the cooled marinade. Squeeze out as much air as possible, turn the bag over and over to cover the turkey, and put the whole thing in the refrigerator for 12 to 24 hours. Turn the turkey several times while it marinates.
When it's time to cook, drain the bag, rinse the turkey with cold water and pat it dry. Stuff the cavity with one medium onion and two medium carrots that have been quartered, and two sprigs of fresh sage. Rub 1 tablespoon of canola oil on the turkey's skin, and bake uncovered at 325 degrees for about three hours.
The brined bird is Benson's first and favorite recipe, and she said she hasn't found anything to match its tastiness since.
The bacon bird
Jennifer Shea has tried brining, roasting in a pan, roasting upside down and roasting in herbed butter to find the perfect Thanksgiving turkey. The marketing director for Strings Music Festival said she can thank her husband for the recipe that's been a family favorite the past two years.
"It was one of those, 'Hey, doesn't everything taste better with bacon? kind of things,'" Shea said about the bacon-wrapped turkey she plans to serve again this holiday season. She uses 1 to 2 pounds of peppered bacon to set her turkey apart.
To follow Shea's method, carefully separate the turkey's skin from its flesh, being careful not to break the skin. Work strips of bacon under the skin, putting three or four pieces along the top of each breast and patting the skin back into place over the bacon.
Place several strips of bacon into the cavity of the bird, and wrap several pieces around each leg, interlacing them to keep them in place. Weave pieces of bacon in a lattice pattern on top of the bird, covering it as desired. Shea does not recommend turkey bacon for any of these purposes.
The cooking directions are the same as a regular roaster — 20 minutes per pound in a 325- or 350-degree oven, covered with foil for the majority of the cooking and uncovered for the last 30 minutes.