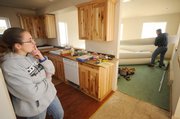 How to help
■ To volunteer, call Leif Myhre at 846-2045 or Tommi Weeden at 871-6101.
■ Send donations to Routt County Habitat for Humanity's second annual gift campaign to P.O Box 772012, or visit its Web site at www.routtcounty habitat.org.
■ Routt County Habitat is looking for a land donation or home donation for its next project. Contact Weeden at execu tivedirector@rout... or call 871-6101.
Hayden — Amanda Archuleta laughs a lot.
Sometimes it's a nervous laugh to fill the silence between bits of conversation. Other times, you just get the sense she's just happy — that she feels blessed for the opportunity presented to her family.
Archuleta and her husband, Levi — a fifth-generation Routt County resident — and their three daughters Brisha, Shelby and Hailey soon will move into a new home built by Routt County Habitat for Humanity. It could happen as early as the end of the month
The project that began Oct. 30, 2008, (Archuleta knows the exact date because she keeps a detailed notebook of the house's milestones) will provide her the opportunity to raise her family in Hayden, a community where she feels safe and that she has come to love.
"It means I can raise my family good," she said.
Archuleta said her family found out about the Habitat project through a bulletin at Mis­sion of Grace Baptist Church in Hayden. At the time, in spring 2007, she said her family learned they would lose their red and blue trailer on the east side of Hayden near U.S. Highway 40. The area was slated for development, Archuleta said.
Her family had talked about leaving Routt County because they couldn't afford it. She said there was no way they would have been able to stay.
Archuleta said her family found out in August 2007 they would be the Habitat home recipients.
Now that it may only be a matter of weeks until they move out of Levi's parents home and into their three-bedroom house off Poplar Street in Hayden, Archuleta said she can't believe it's almost finished. She remembers the first day when there was nothing but a hole in the ground.
"I've been excited for the last year," she said. "Now it's beyond excitement. It's anxiety now."
Security
Archuleta looks down and her voice gets quiet, almost to a whisper, when she talks about being diagnosed with Huntington's Disease. The 28-year-old's mother lost her battle with the disease last year, at age 44. It claimed her uncle in August at age 42.
She held off getting tested until after her family was approved as the Habitat home recipient, after she knew her family would be taken care of.
Now she knows they will be.
"When we found out where the lot was, we thought 'Oh my God, we're right behind the elementary school,'" Archuleta said. "Now the girls can go out the back door and they're there."
Brisha, 10, and Shelby, 8, already attend the school. Hailey, 4, is still a year away.
The mission of Habitat for Humanity is to help people who would have a difficult time building or buying a home without the involvement of the community, said Leif Myhre, Routt County Habitat construction manager.
He said it's the hope of Routt County Habitat that volunteers not only develop relationships among themselves, but also with the partner families they assist.
"A lot of good will is built," Myhre said. "As a result, the fabric of these communities is strengthened by volunteerism, friendships and ideals of helping one another that are fostered through this process."
Myhre said the same is true for the Archuletas' home in Hayden.
"We're excited we were able to come together with the community of Hayden, volunteer contractors, volunteer teams and businesses from Steamboat Springs that continue to back us in our efforts to build affordable housing in Routt County."
Routt County Habitat be­­came a Habitat for Humanity affiliate in 1999, Executive Di­­rec­­tor Tommi Weeden said. Since then, she said, the organization has renovated 22 run-down apartments, built seven homes and renovated one home. The Archuletas' home is the eighth in the county and the first in Hayden.
Weeden said when it's complete, the home will have cost $170,000 to $180,000. She said, however, that the Archuletas' mortgage would be $150,000 because Routt County Habitat would subsidize the difference.
In addition to receiving materials at cost, Weeden said Routt County Habitat projects receive in-kind donations and discounted or free labor from local professionals. Projects are funded primarily from donations and grants, she said.
Almost finished
Archuleta walked around the house Thursday, showing off different parts, from the kitchen and bathroom fixtures donated from a home remodel in Steamboat to the beetle-killed pine windowsills in the living room.
She said the living room is the "greatest aspect" of the house. She plans to hang a black and white photo of her mother and aunt on the wall.
"It's nothing fancy or great, but it's a house," Archuleta said. "I've lived in a trailer my whole life."
Myhre said in addition to the carpet, which was being installed Thursday, only a few tasks remained. Those included plumbing and electrical work, some painting, caulking, exterior and interior trim and handrails.
Retiree Jim Southard, a Routt County Habitat volunteer for the past five years, was caulking Thursday. Southard joked that he had no special skills but tried to volunteer with Routt County Habitat once a week.
"It's something I feel like I can give back to the community," he said. "I believe in affordable housing for people. I feel I've been blessed, and I want to give back."
The Archuletas also pitch in.
When they aren't working at their jobs — Amanda works at the Hampton Inn in Steamboat and Levi works for Victory Motors in Craig — they're working on their home. Routt County Habitat requires its partner families to participate in the renovation or building of their homes — what it calls "sweat equity."
Weeden said the Archuletas have put in more than 1,000 hours of sweat equity. But the organization still needs volunteers, she said.
"We are in the final push to get the Archuletas into their new home," Weeden said. "If we can rally volunteers between now and the end of the month, they should be able to move in by the end of the month."
But it may be sooner. When Myhre was asked whether the family could be in by Thanks­giving, Archuleta crossed her fingers and laughed. This time, though, it was a laugh of hopeful anticipation.
"We'll see," Myhre said.